The Whitney Jeff Koons Makeover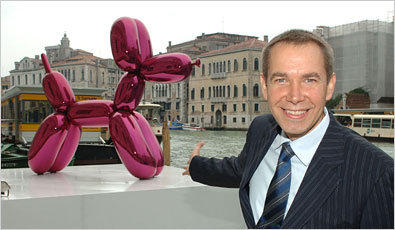 Jeff Koons does everything big, from the size of his sculptures to the price tags on his artwork. The new exhibit at the Whitney Museum of American Art is no exception.
"Jeff Koons: A Retrospective" takes over nearly the entirety of the Whitney's Marcel Breuer building. It features the artist's work from 1978 through the present, all organized in chronological order. His work, an often kitschy commentary on modern commercialism, includes a sculpture of Michael Jackson and his pet chimp Bubbles, vacuum cleaners encased in glass, photographic paintings of Koons and his former wife engaged in sex acts, and a life-size granite gorilla.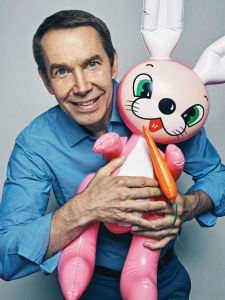 The exhibit is Koon's first prominent museum presentation in New York. As described by the Whitney, "Comprising almost 150 objects dating from 1978 to the present, this exhibition will be the most comprehensive ever devoted to the artist's groundbreaking oeuvre. By reconstituting all of his most iconic works and significant series in a chronological narrative, the retrospective will allow visitors to understand Koons's remarkably diverse output as a multifaceted whole."
Koons is arguably one of the most influential yet controversial artists of the 20th century. Last year, Koon's sculpture "Balloon Dog" sold for $58 million dollars, an auction record for a living artist. Many collectors purchase his works sight unseen and then wait years for them to be delivered.
Yet critics either love or hate him. Some characterize Koons as a genius on par with Andy Warhol, while others find him as ostentatious and shallow as the mega-rich who buy his work. "Just when it looked as if the '80s were over, Jeff Koons has provided one last, pathetic gasp of the sort of self-promoting hype and sensationalism that characterized the worst of the decade," The New York Times remarked in 1991. His work has become even more over top in the past 15 years.