Wang Jianwei Makes U.S. Debut at the Guggenheim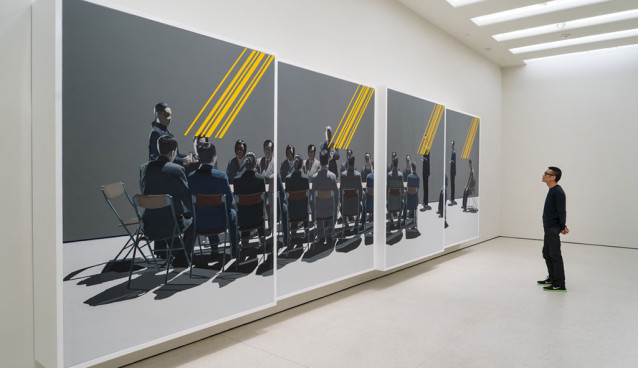 Wang Jianwei: Time Temple recently debuted at the Guggenheim Museum. It is the Beijing-based artist's first solo museum exhibition in North America.
The exhibit also marks the first of three commissions of The Robert H. N. Ho Family Foundation Chinese Art Initiative at the museum. According to the Guggenheim, the initiative "explores key ideas and core artists shaping contemporary art and discourse from China, within a global context." The commissioned works will ultimately become part of Guggenheim's permanent collection.
While the American art community may not be familiar with Wang's work, he is widely considered one of the leading artists of the reform-era avant-garde and experimental art movements in China. Formerly trained at the Zhejiang Academy of Fine Arts (now China Academy of Art) in Hangzhou, Wang is known for both his large-scale installation art and his writings about Chinese art and culture.
Wang Jianwei: Time Temple reflects Wang's wide range of talents by exploring the experience of space and time through three unique presentations — an installation of painting and sculpture, a film, and a live performance. As described by the Guggenheim, "Individually and collectively, these parts explore ambiguity and potential, express time and movement, and consider the ideas of metamorphosis and rehearsal through physical forms.
The installation features a series of large-scale paintings, one of which covers an entire wall of the gallery. The film, The Morning Time Disappeared, will be screened in the Guggenheim's New Media Theater throughout the duration of the exhibition. Two live theater performances, which will feature orators discussing diverse topics such as disappearance, Gnosticism, and Frank Lloyd Wright, are also scheduled during the course of the exhibition.

The exhibit is located on the Tower Level 2 of the Guggenheim Museum, 1071 Fifth Avenue, New York. It runs through February 16, 2015. Additional information about the artists and the exhibit can be found at http://www.guggenheim.org.