USA March of Dimes $1 Wins "Most Inspirational" 2015 Dated COTY
The U.S. Mint won the "Most Inspirational" coin category for 2015 dated coins in the Krause Coin of the Year Awards for the USA March of Dimes $1 KM#604 silver dollar. The coin commemorated the 60th anniversary of the Salk polio vaccine.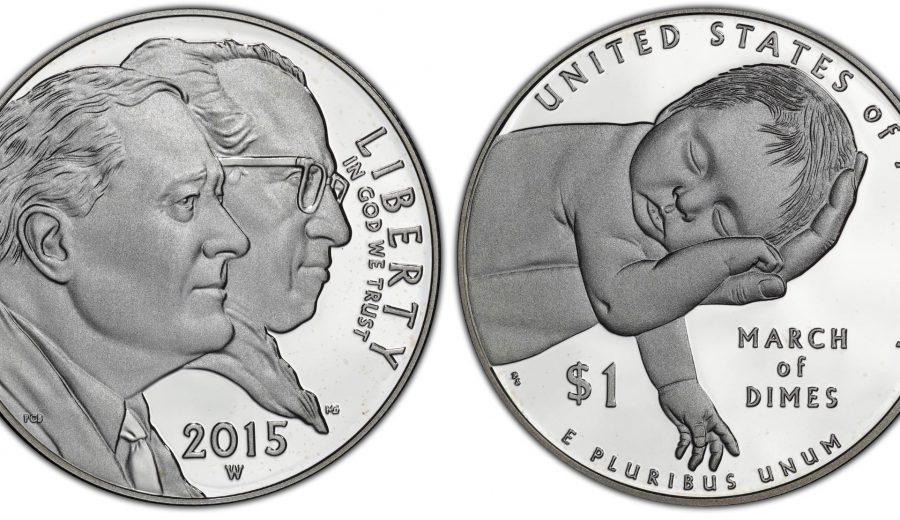 The reverse design is Don Everhart's final coin design for the US Mint before retiring. It depicts a baby cuddled in the hand of a parent, representing the foundation's dedication to the health of babies everywhere. The baby depicted on the coin is Everhart's Grandson. As required by law, the inscriptions are: UNITED STATES OF AMERICA, MARCH OF DIMES, $1 and E PLURIBUS UNUM.
The obverse design by Paul C. Balan, represents the past, features a profile view of President Franklin D. Roosevelt and Dr. Jonas Salk. Both men played key roles in the fight against polio. Mr. Balan is and artist with the United States Mint's Artistic Infusion Program. Michael Gaudioso was the sculptor/engraver. The obverse includes the following inscriptions: LIBERTY, IN GOD WE TRUST, and 2015.
President Franklin D. Roosevelt & the March of Dimes
Profoundly impacted by his own bout with polio, President Franklin D. Roosevelt established the National Foundation for Infantile Paralysis (now known as the March of Dimes) on January 3, 1938. The Foundation established patient aid programs and funded research for polio vaccines developed by doctors Jonas Salk and Albert Sabin, which ultimately ended the polio epidemics in the United States.
The Foundation dedicated its resources to preventing birth defects, prematurity, and infant mortality. Since 1954, its research has led to 13 scientists winning the Nobel Prize. Today, the organization actively supports programs and funding related to prematurity prevention, newborn screening, birth defects, access to health insurance and health care, tobacco cessation, and many more issues that promote healthy pregnancies and healthy babies.
The coin honors the March of Dimes' significant contributions to children's health. As described by the U.S. Mint:
The obverse (heads side) and reverse (tails side) designs are emblematic of the mission and programs of the March of Dimes Foundation and its distinguished record of generating Americans' support to protect children's health. Consistent with the traditions and heritage of the Foundation, the design themes represent the Foundation's past, present, and future and its role as champion for all babies.
The March of Dimes silver dollars weighs 26.730 grams and is 38.10 millimeters in diameter. It is composed 90 percent silver and 10 percent copper. 24,742 were minted in uncirculated condition at the Philadelphia Mint. 32,030 were minted in Proof at the San Francisco Mint. They are readily obtainable in grades of MS69 or Proof 69 and scarcer in MS70 and Proof 70. Third party grading is recommended for these.