USA Kisatchie Ntl. Forest Quarter Won "Best Circulating Coin" for 2015 Dated COTY
The United States Mint won "Best Circulating Coin" for its America the Beautiful Program quarter honoring Kisatchie National Forest. The USA Kitsache 25 cent KM#598 was the Mint's second win in the 2017 Krause Coin of the Year Awards.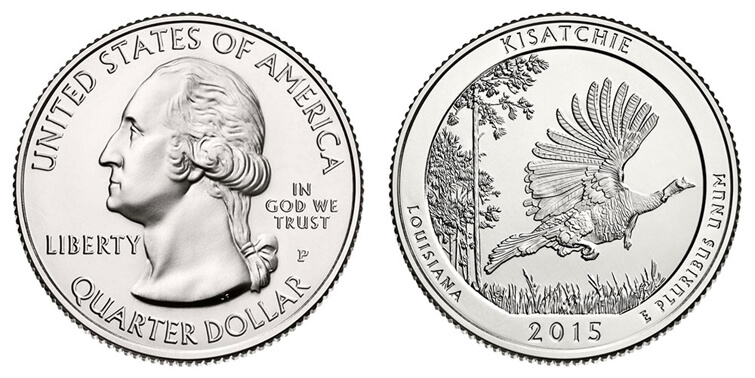 In 2010, the United States Mint began issuing 56 quarter-dollar coins featuring designs depicting national parks and other national sites as part of the America the Beautiful Quarters Program. The 2015 Kisatchie National Forest Quarter was the 27th release in the series, which is scheduled to run through 2021.
As described by the U.S. Mint:
Spread across seven parishes in Louisiana, Kisatchie National Forest is divided into five managed units called Ranger Districts that total more than 604,000 acres of public lands. Hidden in the bayous underneath the bald cypress groves and old growth pine lies a world of natural beauty, excitement, learning, recreation, and natural and cultural resources. The name Kisatchie is derived from a tribe of Kichai Indians of the Caddoan Confederacy. It was established as a national site in 1936.
Susan Gamble designed the Kisatchie National Forest Quarter. The sculptor/engraver was Joseph Menna. The reverse shows a wild turkey flying over blue stem grass with long leaf pine trees in the background. It also includes encircling inscriptions of KISATCHIE, LOUISIANA, 2015 and E PLURIBUS UNUM.
The obverse of the coin features John Flanagan's portrait of George Washington, which is on all America the Beautiful Quarters. The following inscriptions surround the portrait: UNITED STATES OF AMERICA, LIBERTY, IN GOD WE TRUST and QUARTER DOLLAR. The obverse also include a mint mark of "P," "D" or "S" to indicate where the coin was struck, Philadelphia, Denver or San Francisco.
The circulating coin is copper-nickel clad. It weighs 5.67 grams and measures 24.26 millimeters in diameter. The circulating coin has a mintage of 397,200,000. The copper-nickel clad coins minted at the San Francisco Mint did not circulate. The Mint also issued in Copper-Nickel Proof and Silver Proof at the San Francisco Mint which were available in sets.
As with every National Parks quarter dollar in this series, a five-inch silver version of the coin was made at the Philadelphia Mint. The burnished finish with the P-mint mark was sold to collectors. The bullion version without the mint mark was sold to bullion wholesalers.