Canada Wins Most Historically Significant 2015 dated Coin
Canada took home the honors for the most historically significant coin in the Krause Coin of the Year Awards for coins dated 2015. The $20 silver Canada, In Flanders Field, KM#1860 coin commemorates the 100th anniversary of the poem "In Flanders Fields" by Lt. Col. John McCrae.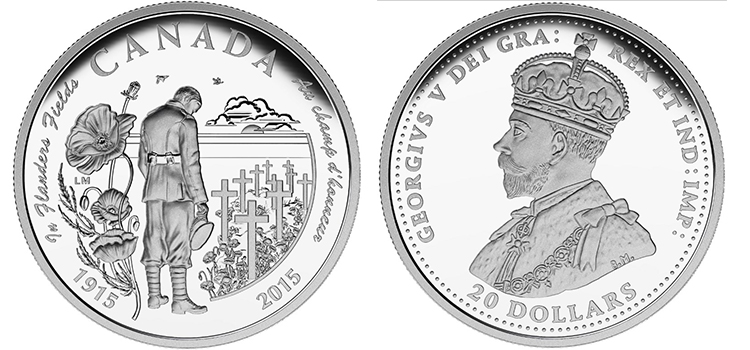 McCrae wrote the iconic poem following the Second Battle of Ypres, which began on April 22, 1915, and represented Canada's entry into combat during World War I. The newly-formed Canadian Expeditionary Force successfully pushed back the advance of German forces after French troops were dispersed by the first gas attack in military history. With one in three Canadian soldiers killed or wounded in this costly counterattack, Lt. Col. John McCrae was moved to remember this incredible sacrifice by writing In Flanders Fields.
"No story is more symbolic of the ultimate sacrifice made in wartime than Lt. Col. John McCrae's writing of In Flanders Fields, a literary tribute to fallen Canadian troops which gave an eternal voice to those who died in the fight for justice and freedom in the First World War, and every war which followed," Sandra Hanington, President and CEO of the Royal Canadian Mint, said when the coin was unveiled.
"The Royal Canadian Mint is proud to produce coins to honour the contributions of Canadian forces throughout history and it is fitting that the poem which has remembered them over the last 100 years is forever preserved on exquisitely crafted silver collector coins."
The one-ounce silver coin was designed by Canadian artist Laurie McGaw. To mark the 100-year anniversary of "In Flanders Fields," it is dated 1915-2015.
The reverse design features a lone Canadian soldier, his head bent in mourning, standing before a makeshift gravesite on the Belgian fields near Ypres. A large image of a poppy is depicted to the left of the soldier, with smaller flowers to his right. In the glow of the sunset, two birds are shown in flight. The image coincides with the words of McCrae's poem:
In Flanders fields the poppies blow
Between the crosses, row on row,
That mark our place; and in the sky
The larks, still bravely singing, fly
Scarce heard amid the guns below.
The obverse features the effigy of King George V by Sir E. B. MacKennal in place of the obverse of Queen Elizabeth 2. It is a break from tradition to place the portrait of a deceased monarch on a coin and required approval by the Queen to do so.
The coin was limited to a mintage of 10,000. It weighs one ounce and measures 38 millimeters in diameter.