Cooks Islands Win Most Innovative 2015 COTY Category
The Cook Islands' $2 Space–Time Continuum coin (KM#1693) was named the "Most Innovative" coin dated 2015 by the international panel of judges in the Krause Coin of the Year Awards. The revolutionary coin features a magnetic sphere at its center, which can be removed.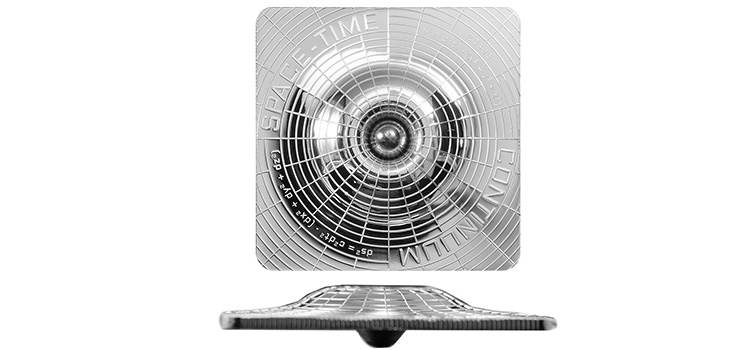 The unique 35 mm x 35 mm square, 3D warped coin commemorates the discovery of the space-time continuum by mathematician Hermann Minkowski. In 1908, Minkowski proved that time and space cannot be separated from one another and are connected geometrically. He created a diagram depicting the connection. Minkowski's student, Albert Einstein, later incorporated the discovery into his own theory of relatively.
The reverse of the coin depicts the Minkowski diagram, a geometric illustration of the formula of special relativity, which is engraved in one of the diagram's columns together with the inscription SPACE–TIME CONTINUUM. The center of the high-relief coin is marked with a magnetic sphere, which can be removed.
Unfortunately, like all of the coins produced by the Coin Investment Trust, the designer of this creative circular grid pattern reverse is not disclosed.
The obverse features a mirror or inversion of the reverse. On the left corner, it displays the Ian Rank-Broadley portrait of Queen Elizabeth II. The issuing nation (Cook Islands) and the face value (2 Dollars) are inscribed on the bottom right corner.
The half-ounce .999 fine silver coin was issued by Coin Investment Trust and struck by B.H. Mayer's Kunstprägeanstalt Mint in Munich, Germany. It measures 35 millimeters in diameter and weighs 15.57 grams. The coin has a mintage limit of 1,500 coins.