Austria Wins Best Gold Coin dated 2015
Austria's 100 euro Capercaille (KM#3246) was named the Best Gold Coin in the Krause Coin of the Year Awards for coins dated 2015. The stunning coin is part of the Austrian Mint's Wildlife in our Sights series, which celebrates the diversity of Europe's native wildlife as well as the sustainable management of their habitats.
The coin features the capercaillie bird, which is native to Austria. As described by the Austrian Mint: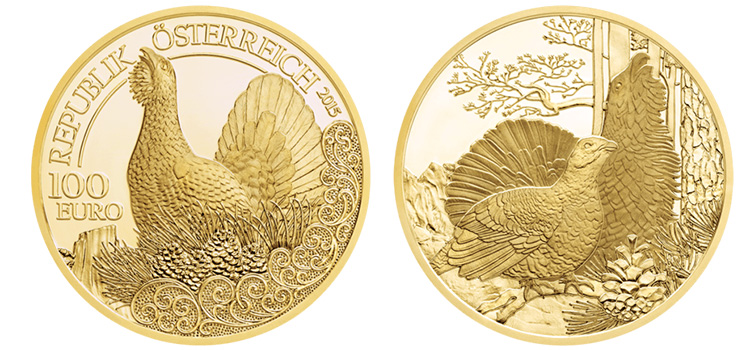 The largest member of the grouse family, the capercaillie is known for its spectacular courtship display during the mating season…Less widespread than the other animals in the series, the capercaillie lives in coniferous, mixed and deciduous woodland where it spends the night roosting in trees. The habitat of the capercaillie is disappearing and this most striking of birds is now extinct in a number of European countries. Austria is, however, one of the last countries where the capercaillie, though rare, still exists in relatively large numbers.
The coin was designed by Thomas Pesendorfer and Helmut Andexlinger. The obverse shows the bird in its natural habitat, with its head held high and fan-like tail upright, performing its long and distinctive mating call. Ornamental scrolls are features along the right and right-bottom area of the coin. The legend REPUBLIK ÖSTERREICH and the date 2015 are inscribed at the top of the coin. The denomination, "100 EURO" is indicated to the left of the grouse.
The coin's reverse shows this large bird's softer side as it nestles alongside its much smaller mate. The upland woodland in which the capercaillie dwells is represented in the shape of conifers and a rocky outcrop. There is no text.
Struck in Proof quality, the coin measures 30 millimeters in diameter and contains 16 grams of gold. The mintage of the coin is limited to 30,000 pieces.