The Best Leather-Bound Books to Buy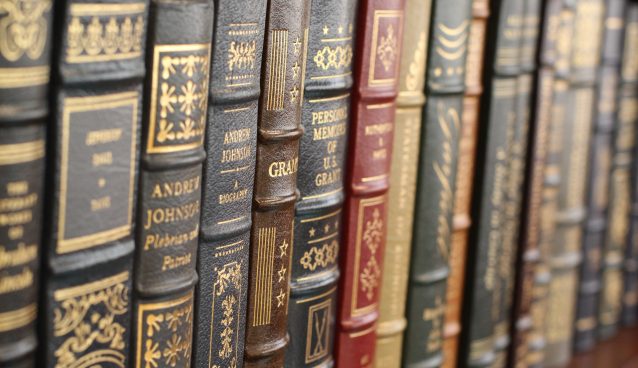 Notwithstanding the popularity of e-books and recorded books, the death of paperback and hardcover books has been greatly exaggerated.
Many people prefer books for Kindle and iPad.  Why not?  You can carry your entire library with you and electronic books take no space in your home.  Therefore, it is counterintuitive that the sales of books have risen in recent years, particularly among young readers.
If you do buy a book, think about buying only first editions or leather bound special edition books.  These are more likely to hold their value and remain saleable for more than a dollar or two in the future as electronic books become even more popular.
Leather-bound books have always been popular and they are likely to remain a good investment.  There is something particularly special about the look, smell and feel of a leather-bound book. For collectors, Easton Press and Gryphon Editions are the best on the market.
Easton Press Collections
All of the books published by Easton Press feature genuine leather, 22 karat gold accents, and permanent satin ribbon page markers. They also include thread-sewn pages, which provide strength and durability, along with elegant gilding and endsheets of rich moiré fabric.
Easton Press' most popular collector's set is The Greatest Books Ever Written. The company's keepsake editions of the Holy Bible and leather-bound editions of The Hobbit and The Lord of the Rings by J.R.R. Tolkien are also extremely popular among families. For literary buffs, Easton Press offers the complete stories and novels of Sherlock Holmes by Arthur Conan Doyle and the complete novels of Jane Austen including Pride and Prejudice, Emma and Sense and Sensibility. The company also publishes deluxe and signed editions of many collections, such as an anniversary edition of Polar Express signed by writer and artist Chris Van Allsburg.
Gryphon Editions Collections
Gryphon Editions has been publishing facsimile reproductions of the classic books in Law, Medicine, Science and Political Thought for more than 40 years. Its books are also bound with genuine leather and feature 22 karat gold accents and lettering. They feature thread-sewn acid-neutral pages, decorative end papers, a silk page marker, and raised spine beds.
Gryphon's 65-volume Legal Classics Collection and 60-volume Classics of Medicine Collection are popular among professionals. The publisher also offers signed editions. Gryphon recently announced a new collection that will feature the life stories of "The 100 Most Influential People" in the history of the world, including Alexander the Great, Thomas Jefferson, and Albert Einstein.
Building a Collection of Leather-Bound Books
Just like vinyl, "real" books are making a comeback. To start your collection, there are a number of online book retailers. Books are also often resold via E-Bay and other auction sites. Easton Press and Gryphon Editions also have their own websites and offer purchasing plans with installment payment plans.
To ensure that your books remain in good condition for the longest possible time, there are steps you can take to preserve your collection. The most and important are to store your books in a stable, cool, clean and non-humid environment and avoid direct sunlight that can dull colors and fade leather. It's also important to use a bookmark, rather than laying books down to save your place.