How the World Changed in 1177BC
1177 BC:  The Year Civilization Collapsed, by Eric Cline, Princeton University Press 2014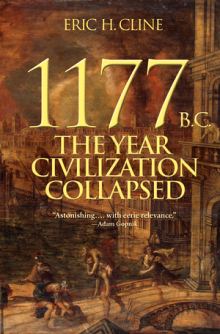 What is the most important date in history?  Eric Cline selects the date, 1177 B.C. and shows how civilization collapsed.  He offers an intriguing look how the advances of civilization up to that point.  For many historians, this is when recorded history begins.
In 1177 B.C., marauding groups known only as the "Sea Peoples" invaded Egypt. While the Egyptians were ultimately successful in fighting off the attacks, the civilization never fully recovered. Cline's book delivers an inside look into the myriad of factors, ranging from invasion and revolt to earthquakes, drought, and the cutting of international trade routes, that brought the Bronze Age to an untimely end.
Instead of using a dry, academic narrative, Cline's writing style is simple and crisp.  This makes a book like this so easy to digest and enjoy.  While the title might not suggest it, the book is a fun, easy read.
As described by the publisher, "Bringing to life the vibrant multicultural world of these great civilizations, he draws a sweeping panorama of the empires and globalized peoples of the Late Bronze Age and shows that it was their very interdependence that hastened their dramatic collapse and ushered in a dark age that lasted centuries."
The book is a careful balance of historical scholarship and compelling narration. Cline's knowledge and passion for his subject also come through in his writing. Cline is currently a professor of classics and anthropology and director of the Capitol Archaeological Institute at George Washington University. An active archaeologist, he has excavated and surveyed in Greece, Crete, Cyprus, Egypt, Israel, and Jordan.
First published in 2014, the ancient history book has won praise from critics outside academia and was even considered for a Pulitzer prize. "The memorable thing about Cline's book is the strangely recognizable picture he paints of this very faraway time…It was as globalized and cosmopolitan a time as any on record, albeit within a much smaller cosmos. The degree of interpenetration and of cultural sharing is astonishing," wrote Adam Gopnik of the New Yorker. 1177 B.C. was one of The New York Post's Best Books of 2014, as well as one of The Federalist's Notable Books of 2015.
1177 B.C. is available on Amazon.com in paperback, hardcover, and Kindle versions.