Legislation For Plymouth 400th Anniversary Commemorative Coins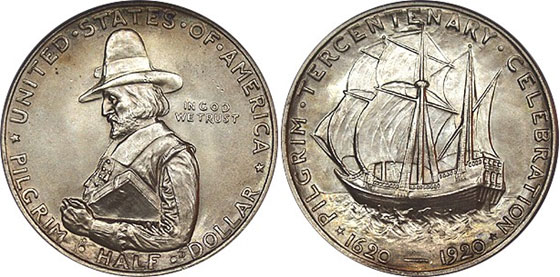 Congress is currently considering the "Plymouth 400th Anniversary Commemorative Coin Act of 2017." The coins would be minted in 2020.
As the name suggests, the bill calls for the Secretary of the Treasury to mint coins in commemoration of the 400th anniversary of the landing of the Mayflower and settlement of Plymouth Colony and the signing of the Mayflower Compact near Provincetown. The coins would also recognize the role of the indigenous Wampanoag Tribes in the realization of the settlement.
As highlighted in the "Plymouth 400th Anniversary Commemorative Coin Act of 2017," the arrival of the Pilgrims in Massachusetts in 1620 is an important landmark event in the history of the United States. The settlers, and their ship the Mayflower, have come to represent national and international symbols of freedom and law. In addition, there are more than 20,000,000 descendants worldwide who trace their ancestry back to the Mayflower passengers arriving in 1620 and on subsequent ships in the 1620s.
The bill calls for striking 100,000 $5 gold coins, along with a maximum of 500,000 silver dollars and 750,000 half-dollars. Each $5 gold coin will weigh 8.359 grams and have a diameter of 0.85 inches. Each $1 coin will consist of 26.73 grams of silver and have a diameter of 1.5 inches. And each clad half dollar commemorative will weigh 11.34 grams and have a diameter of 1.205 inches.
With regard to design, the coin designs must be "emblematic" of the Mayflower landing, the signing of the compact, the founding of the colony and the contributions of the Wampanoag tribes to its success and survival. The year "2020" will be incorporated into each design. The Citizens Coinage Advisory Committee (CCAC) will review potential designs for the commemorative coins and submit its recommendations to the Secretary of the Treasury.
Coins will be issued in both Proof and Uncirculated finishes. Pursuant to the "Plymouth 400th Anniversary Commemorative Coin Act of 2017," surcharges from the sale of the coins will "assist the financing of a suitable national observance in 2020 and 2021 of the 400th anniversary of the Pilgrim landing and historic events…"