Synergistic Research Grounding Block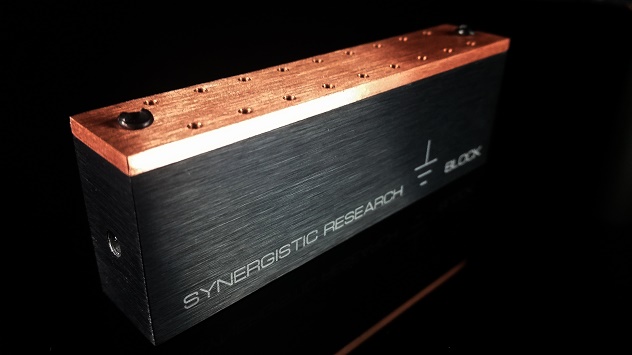 Synergistic Research has become a market leader of innovative audiophile products.  While teaks of all kinds find no shortage of skeptics, the Grounding Block from Synergistic Research is a tweak based on solid science and it works.
It has always been known that a well-grounded audio system has a lower noise floor than one where key components lack an adequate ground.  Just remove the grounding cable from a turntable.  The hum that you hear is audible evidence of an insufficient ground.
Essentially, grounding removes the excess charge from an electrical component.  When a component is grounded, the electrons of the excess charge are transferred to the ground and reduced.  Often, copper or the metal in a component's housing is used as a ground.  Some components, like phono pre-amps have a dedicated ground.
The Grounding Block is a separate dedicated ground that can be shared by all components.  It is a small, rectangular metal brick about 2 inches X 4 inches and ¾ inch thick of solid carved aluminum with a copper plated top.  It is capable of grounding 18 items.  It connects to a wall outlet with a three prong plug.  It grounds any component with an active circuit.
Synergistic Research has used the concept of grounding in most of their latest products that feature UEF technology.  Their cables have a grounding wire, their PowerCell 10 has a grounding wire and their more esoteric tweaks like the Atmosphere and the Tranquility Base have a grounding wire.
The Grounding Block was originally developed for Synergistic Research's connecting cables.  However, they discovered that all components can benefit from better grounding.  First and foremost, of course, are turntables.  Rather than use the pre-amplifier alone as a ground for a turntable, by connecting a banana cable from the pre-amplifier's ground to the grounding block, the noise floor is reduced even further.
All components benefit from the improved ground that Grounding Block provides.  Synergistic Research makes cables with RCA connections, XLR, USB, Ethernet, BNC, spades and bananas.  Just plug one of these ends into any component and attach the other end to the grounding block and the component will have a better ground.  The cumulative effect of using the Grounding Block with all of the components in a sound system is noticeable.
The Ethernet cable is particularly useful.  The commercially available cable boxes, routers and internet boxes do not come with ground control other than the third prong of the plug for their power supply.  These items need to be made cost effectively, and manufacturers just do not deal with vibration control or grounding.  The casing for these products is also inexpensive.  High end audio and video is not the market these items target.
The Grounding Block is priced at about $600 and includes four ground wires which can be purchased for $100 each if you need more.  They also make high definition grounding cables that add UEF shielding at about $400 each.  The UEF shielding is a benefit especially for complex systems with many cables and power cords strung close together and contained in an enclosed back.
For more information about the Grounding Block and a better idea of pricing and the cables that are available, call the Cable Company.  Specials are offered from time to time that combine the Grounding Block with other products.