Audiophiles Gather at AXPONA in Chicago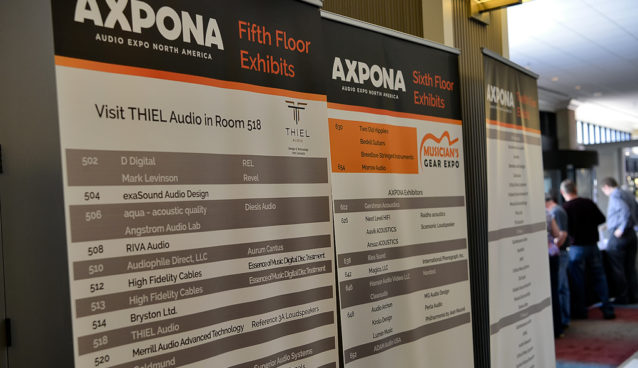 AXPONA (Audio Expo North America), the high-end consumer audio show held last weekend at the Westin O'Hare in Rosemont, Il, is one of the best events of the year for audiophiles.
While this is only one of about a dozen national high end audio shows, it is one of the more popular shows for audiophile consumers and manufacturers.  It attracts more than 400 manufacturers, retailers and brands, and features dozens of listening rooms with expertly paired components, speakers and cables.
The audio show featured over 110 high fidelity listening rooms for checking out the latest and greatest audio products on the market.  Exhibitors included PSB Speakers, Audioquest, Chord, Nordost, KEF, JBL Synthesis, Anthem, Astell & Kearn, Synergistic Research, Shunyata Research, VPI, Audeze, the Cable Co., Master & Dynamic, OPPO, B&W Speakers, PS Audio, HiFiMan, and Revel speakers.   Their representatives answered questions and allowed attendees to compare the merits of their products side by side with their competitors.
For consumers, there is truly no better way to compare the different systems. At the Marketplace area, visitors could demonstrate and buy a wide variety of turntables, vinyl, SACDS, musical instruments, cables, accessories, racks and stands, turntables, and tonearms. There was even an area that was dedicated to headphones and mobile high end portable listening equipment called the Ear Gear Expo.
In addition to owners and top executives from the industry, AXPONA always attracts key innovators and thought leaders like Dr. Mark Waldrep at AIX Records, Michael Fremer from Analog Planet,  Ted Denney from Synergistic Research and Rory Rail from Benchmark Media.
Dr. Mark Waldrep treated visitors to a listening treat of high resolution audio recorded properly in his studio and played back using his specially configured five channel OPPO player on five Revel Salon 2 Loudspeakers powered by Benchmark monoblock amplifiers.  Without the benefit of high end power cords or connecting cables, which Dr. Waldrep would never condone, the sound was second only to the $109,000 Wilson Audio ALEXX and, maybe, the Legacy Audio Aries powered by Raven monoblocks.
David Fremer did his presentation about how to set up a turntable, which always get a capacity crowd.  While Rory Rail was on hand at Benchmark's booth to answer questions about their product line and listen to audiophiles make requests for new products such as a 5 channel DAC for home theater playback, Ted Denney did A-B tests of his innovations in resonance and sound treatments to the amazement of the listeners.  The Synergistic Research Black Box, when used with the Atmosphere and HFT 2 dots or panels made a lot of believers at the show.