Providenciales Missionary Elevated To Bishop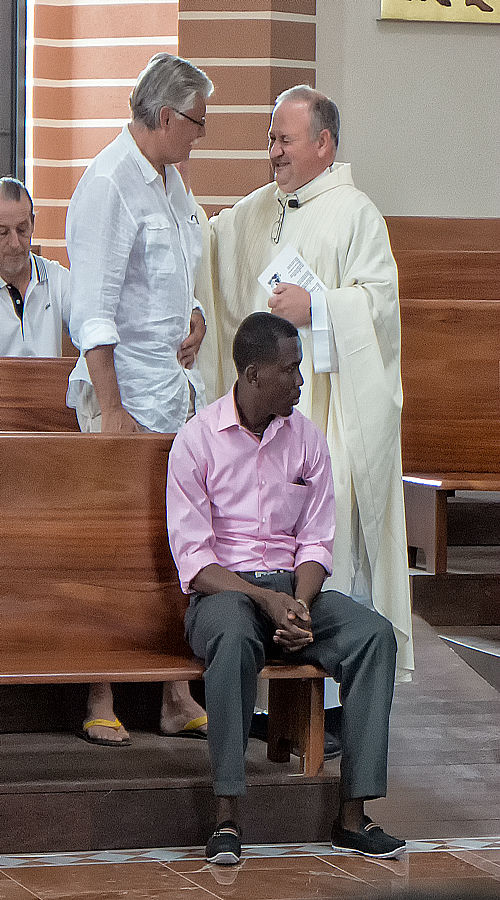 Monsignor Peter Baldacchino, affectionately called, "Fr. Peter," was taking out the trash when Archbishop Wenski called to tell him that he had been elevated to Bishop.
"We do everything. We wash the plates, we wash the laundry," Fr. Peter said as if annoyed by the interruption.
"He's been in the trenches. He's not a bureaucrat," Archbishop Thomas Wenski said about the appointment. "I think it reflects one of the priorities of Pope Francis but also it fits with me."
To his parishioners, Fr. Peter, is a tireless missionary who takes as much joy in taking out the trash as he does in entertaining a visiting dignitary or reading scripture.  He is as attentive to the Haitian and Mexican immigrant worker in need of help as he is to wealthy American tourists and Royal Governors who visit.
Catholics who go to Turks & Caicos to enjoy beautiful Grace Bay Beach and discover Fr. Peter at Sunday mass never miss an opportunity to hear him speak when they return to the Island.  Fr. Peter's exposition of the gospel comes from a Devine place within him.  As the warm Caribbean sun tans the body and makes tourists feel happy and alive, standing in Fr.Peter's presence brings joy and overwhelming peace to the soul.
Monsignor Peter Baldacchino who ran Our Lady of Divine Providence Mission has now been called to serve a broader community as the newest auxiliary bishop of Miami, Florida.
Baldacchino, a native of Malta, studied at Seton Hall University's Immaculate Conception Seminary, where he received a master's degree in divinity. He was ordained a priest for the Newark archdiocese in 1996, after which he served as a parochial vicar at Our Lady of Mount Carmel in Ridgewood, New Jersey.
While serving as the Chancellor of Our Lady of Divine Providence Mission in the Turks & Caicos Island Fr. Peter built a school and raised money to create opportunity for those who would not otherwise have means to receive a Catholic education.
As the congregation grew from about 40 to over 1,000, it was common to see people standing outside the small, open air church on Leeward Highway in Providenciales.  But this is no ordinary congregation.  This is a community of Christians with vastly different cultures and languages.  They are believers from Haiti, Mexico, South America, the Philippines, Canada, England, Europe, American and other locations who come together as one body in Christ and make the gospel live in such an unlikely place–this small, unassuming Caribbean island that God has chosen.
Undaunted by the seeming impossibility of building a new church, Fr. Peter shepherded the community to build a new, larger church for itself.  While it may be just bricks and mortar on the surface, the faith and love that built that church is a true miracle and a visit to the structure should be a "must do" in every guidebook for Turks & Caicos today.
With regard to what his future hold in Miami, Baldacchino remarked: "I really look forward to the surprises that God has for me — for us."