Austria's 100 E "Red Fox" Dated 2016 Won "Best Gold" COTY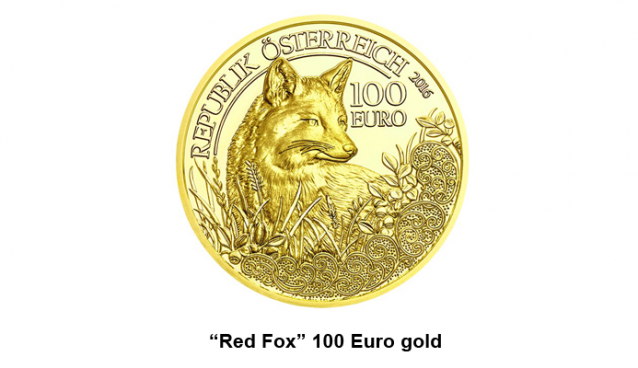 As the world awaits the judging for the 2017 dated coins, we continue our review of the 2016 dated coins that won each category of the Krause Coin of the Year Awards. The awards for these coins were presented at the World Money Show in Berlin in February 2018.
The "Red Fox" 100 Euro gold from the "Wildlife in our Sights" series won Best Gold in the Krause Coin of the Year Awards for coins dated 2016. The coin, which is both rustic and elegant, was designed by Thomas Pesendorfer and Herbert Wähner of the Austrian Mint.
The Muenz Osterreich, or Austrian Mint, launched the "Wildlife in our Sights" series back in 2013. All of the coins depict animals from Austria shown in their natural habitats. "Red Fox" is the fourth in the series. As described by the Austrian Mint:
With their reputation for cunning, few animals play as prominent a role in popular culture and folklore as the fox. This is partly due to the fact that foxes live in close proximity to humans than most other wild animals. So widespread is the red fox that this member of the wolf family is not an endangered species.
On the obverse, the European red fox is sitting on wild grasses, looking off into the distance to the right. Ornamental scrolls with raised dots are also shown beneath the fox. The only inscriptions are REPUBLIK OSTERREICH (underlined), the year 2016, and 100 EURO.
The reverse features an adult fox watching over two fox cubs. The three foxes are sitting under a tree. A wood mouse is depicted under the middle fox. The cubs, the mouse and most of the grass occupy the lower half of the side. The tree and the adult fox occupy the upper half, though the tree more clearly takes up the left quarter and the fox takes up the right.
Struck in Proof only, the coin measures 30 mm and contains 16 grams of 98.6% pure gold. The mintage limit is 30,000.
The "Red Fox" 100 Euro gold was available at the Austrian Mint for € 739.00.