Austria's Niobium Time Coin Wins 2016 dated COTY "Best Bi-Metallic"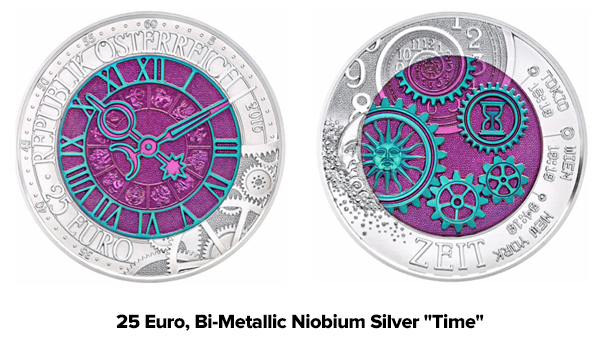 At the Krause Coin of the Year Awards, Austria won in the Best Bi-Metallic Coin category for coins dated 2016 with its 25 Euro niobium silver depiction of "Time."
The latest addition to the Austria Mint's award-winning series uses its two-tone niobium core and outer silver ring to depict a selection of timepieces throughout the ages. As described by the Austrian Mint:
The theoretical meaning of time may have long been a major subject of debate among philosophers, physicists and religious figures, but the more practical discipline of its measurement has proved to be less of a mystery. Dedicated to the history of chronometry, the latest ingenious addition to the Austrian Mint's best-selling two-tone silver niobium coins, 'Time' uses its two-tone niobium core and outer silver ring to show a selection of timepieces throughout the ages.
Austrian Mint engraver Helmut Andexlinger designed and engraved both sides of the coin. The country of issue REPUBLIK ÖSTERREICH (Republic of Austria) and the face value (25 euros) are inscribed on the obverse of the coin. The obverse design includes an analog clock face in the two-toned niobium core, uses Roman numerals for the hours, and features signs of the zodiac marking astronomical progressions, as well as a chronometer showing seconds and minutes in the outer silver ring.
On the reverse, ZEIT is inscribed in the outer ring, towards the bottom of the coin. The sun and moon are depicted, as well as an hourglass and watch mechanism. A time spiral begins in the ring and extends into the center core. Concurrent digital times in Tokyo, Vienna and New York City are shown along the right side of the ring.
The niobium inner ring is light purple and azure blue. Unlike other colorized coins, "Time" was colorized through controlled oxidation rather than by applying paint or similar material. The coin has a 9-gram .900 fine silver ring and a 6.5-gram .998 fine niobium core. It weighs 16.5 grams, is 34 mm in diameter, and is 2.55 mm thick.
The Austrian Mint produced a maximum of 65,000 pieces in Special Uncirculated quality. The coins are now sold out and only available on the secondary market.