Germany 5 Euro "Planet Earth" Gets COTY for Coins Dated 2016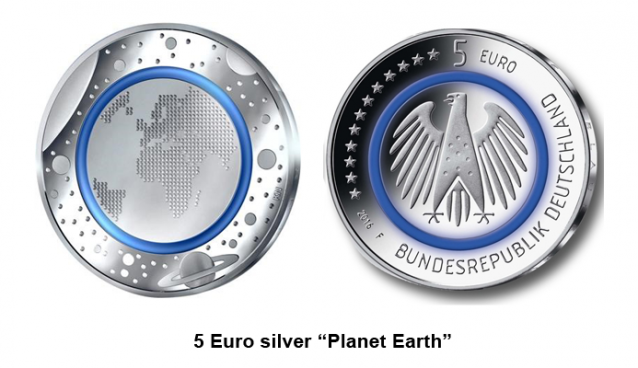 It was no surprise that Germany's 5 Euro "Planet Earth" would win the Most Innovative category and go on to win the Krause Coin of the Year for coins dated 2016.
The polymer ring is a revolutionary product that not only serves as an anti-counterfeiting device, but it extends the life of the coins as well. The ring also creates a striking, modern look as a design element. The polymer ring attracted worldwide attention since the moment it was announced.
Germany's "Planet Earth" coin had been in development since 2006. It is the world's first coin made with a combination of metal and polymer components. The polymer ring is inserted between the metal components and forms a permanent bond.
The 5 Euro "Planet Earth" coin was minted in proof and in circulation strike by each of Germany's five mints: Berlin (A), Munich (D), Stuttgart (F), Karlsruhe (G), and Hamburg (J). The polymer ring is a slightly different shade of blue for each mint that is easily spotted when the coins are placed on a light board or when they are held up to the light.
The obverse of the "Planet Earth" coin was engraved by Alina Hoyer. The German eagle is featured at the core. The outer circle shows the face value, the name of the Federal Republic of Germany (BUNDESREPUBLIK DEUTSCHLAND), the mint letter, the date and the 12 stars of the European Union.
Stephan Klein engraved the reverse. The inner core displays a dotted matrix of the Earth, with its continents rendered in stylized groupings of dots. The outside circle represents space. In between the two, there is a blue polymer ring representing Earth's atmosphere and the connection between Earth and the cosmos.
The edge of the coin is smooth with the inscription "BLAUER PLANET ERDE · BLAUER PLANET ERDE." In English, the translation is "Blue Planet Earth."
The coin is comprised of a Tri-Material Copper-nickel center (81%Cu/19%Ni) with a blue Polymer inner ring and Copper-nickel outer ring (75% Cu/25%Ni). It weighs 9.0 g, is 27.25 mm in diameter, and is 2.3 mm thick.
The 5 Euro coin is legal tender in the Federal Republic of Germany. The 5 Euro "Planet Earth" collector coin was available from the Mint in proof quality for €15.55 and circulation strikes were available from the banks and circulated widely. The secondary market for these coins has been strong and today it is hard to find a set of the five proof coins in their unique Lucite box for under $400.