Project Celebrates What the Constitution Means to Americans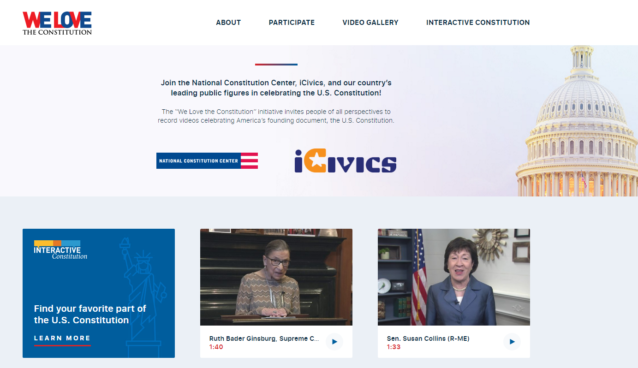 The U.S. Constitution has taken center stage in several recent political battles and high-profile lawsuits, highlighting that it has become a symbol as well as the document upon which our Democratic Republic is based. For many Americans, the Constitution has deep personal meaning as well.
A new project by the National Constitution Center and iCivics allows Americans to upload videos explaining what the Constitution means to them. The website, WeLoveTheConstitution.org, is intended to celebrate the America's founding document and encourage dialogue about its continuing significance.
To spark the conversation, some of the country's most influential leaders have already posted videos sharing what they value most about the U.S. Constitution. Supreme Court Justice Ruth Bader Ginsburg recorded a message highlighting that the phrase "we the people" in the Constitution's preamble has become increasingly more inclusive over the past two centuries.
Several members of Congress have participated, including New Jersey's Cory Booker. Sen. Booker spoke about the Fourteenth Amendment's guarantee of equal protection under the law and its particular importance for racial minorities. Other notable figures who have recorded videos include Tom Brokaw, Ken Burns, the Cato Institute's David Boaz, The New York Times Supreme Court journalist Adam Liptak, and National Constitution Center President and CEO Jeffrey Rosen.
"I am thrilled that iCivics has partnered with the National Constitution Center to help spread the word about what Americans love about our Constitution," said Supreme Court Justice (Retired) Sandra Day O'Connor, Founder and Chairperson of iCivics. "I founded iCivics because I believe teaching kids about the Constitution is critical to our nation's future and my most important work. At this time, we must remember what brings us together as a country."
To participate in the project, Americans should record videos using their cell phone, tablets or computers and upload then to YouTube. The next step is to fill out a form on WeLoveTheConstitution.org and submit the YouTube link.