Chuck Berry Pioneered Rock and Roll Music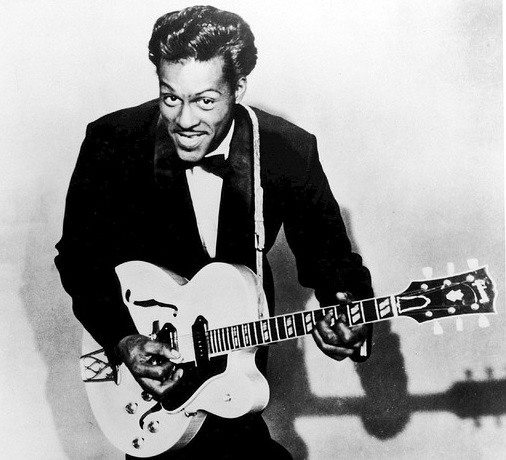 Known for his duck walk and signature guitar licks, Chuck Berry left an indelible mark on rock and roll music. Berry died on March 18, 2017, at the age of 90.
Born in 1926, Charles Edward Anderson "Chuck" Berry is often referred to as the "father of rock 'n' roll." Borrowing from blues, country and R&B, Berry's sound was uniquely his own. He went on to influence some of the greatest rock and roll groups of all time, including the Beatles, Rolling Stones, and Aerosmith.
Berry got his start began playing at local St. Louis clubs in the early 1950s. He soon joined Sir John's Trio, which was then led by pianist Johnnie Johnson. Berry reshaped the band to reflect his own musical style and generated a wide following at the St. Louis Cosmopolitan Club. In 1955, Berry traveled to Chicago in hopes of securing a record deal. Through famed blues musician Muddy Waters, Berry met Leonard Chess of Chess Records and signed a deal.
The same year, Berry's first song, "Maybellene," reached number five on the Billboard pop chart and was a number one R&B single. Berry went on to release a series of hits, including: "Roll Over Beethoven," "Too Much Monkey Business," "School Day (Ring! Ring! Goes The Bell)," "Johnny B. Goode," "Rock and Roll Music," "Sweet Little Sixteen," "Brown Eyed Handsome Man" and "Carol." His fans were as elective as his music, including young and old and black and white.
From his lyrical descriptions of high school hijinks to his famous two-stringed lick, Berry was the very essence of juke box music. On stage, Berry was equally charismatic. He became known for his duck walk, a dance move that involved him crouching down and playing guitar while hopping across the stage on one foot.
While Berry didn't produce many hit records after his 1972 number one hit "My Ding-a-Ling," he continued to shape the rock and roll music scene. He also successfully toured for decades and was inducted into the Rock and Roll Hall of Fame in 1986. At his induction, Keith Richards of the Rolling Stones said, "It's very difficult for me to talk about Chuck Berry 'cause I've lifted every lick he ever played. This is the man that started it all!"
In the wake of his death, sales of Berry's greatest hits album, The Definitive Collection, have skyrocketed, marking his highest charting album in four decades. Berry is survived by his wife, Themetta Suggs, as well as four children: Ingrid Berry, Melody Eskridge, Aloha Isa Leigh Berry and Charles Berry Jr.