Turk and Caicos K9 Charity Rescues Strays for Adoption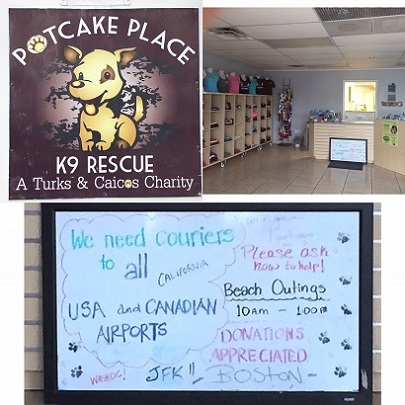 There is no shortage of Americans who have the compassion to save an abandoned dog from death or rescue an animal from an abusive or neglectful owner.  It has even become trendy to adopt a pet from a rescue center and contribute a few dollars from time to time to help those who actively engage in the rescue. In the Caribbean, however, support for animal rescue is significantly less widespread and by no means a particularly popular thing to do.
Dogs in the Caribbean often run free, give birth under shelters of garbage and debris, and get hurt or abused by uncaring island residents.  In many islands, dogs run free and can even appear menacing to tourists driving past them as they bark or show their teeth.  They often travel in groups and can be seen injured or dead at the side of a road.
Rescue centers in the Caribbean, like Voiceless Dogs of Nassau run by Chella Melnechuk are very rare.  When there is an organized effort to help island animals it is usually a loose network of fosters who care for the rescued animals in their home until a more permanent home can be found.
In Providenciales, Turks & Caicos, a handful of committed volunteers seek out vacationers to help by adopting and taking the animals home with them.  They also offer three hour "play dates" for visitors to take the animals for a walk or back to their room and offer them some love and attention for a little while.
In operation since 2005, Potcake Place typically shelters 50 to 70 dogs. Many do find permanent homes. According to the K9 charity, it adopts out approximately 500 animals worldwide each year.  The volunteers run a storefront at Salt Mills to showcase the animals in need and to talk to vacationing shoppers.
The Caribbean island dogs are called "Potcakes" because islanders frequently fed strays the caked peas and rice remains from their pots. The breed grows to between 40 and 55 pounds and is typically a mix of Labrador Retriever, German Shepherd and English Fox Terrier. Over time, Potcakes have evolved into a breed that is known to be extremely smart, loyal, and loving.
While there is a significant stray dog population in The Turks and Caicos Islands, there are no animal shelters. The volunteers at Potcake Place take care of the animals in their own homes until permanent owners can be found. "This is the only alternative we can see to them starving in the bush, being run over, intentionally poisoned, dying of Heartworm/Ehrlichia/Parvo or being euthanized," the organization's Facebook page states.
Since dogs are not allowed to travel solo, Potcake Place is always looking for travelers that are willing to take custody of the animals on their journey to their new owners. You can also help Potcake Place by bringing some donated goods in your luggage. The organization regularly updates the "wish list" on its Facebook page.
If a trip to Nassau, Bahamas or Providenciales, Turks & Caicos is not in your future, visit the web sites and donate to Voiceless Dogs of Nassau or to Potcake Place.  The money will be well spent on veterinary care and supplies like food, collars, and treats.