Poland Wins Most Inspirational 2014 dated COTY
Poland's 10 zlotych silver coin (Y.902) was named the "Most Inspirational Coin" in the 2016 Krause Coin of the Year Awards. The award-winning silver coin, dated 2014, honors the birth of Jan Karski, who smuggled Holocaust evidence to the Allies in a hollow key.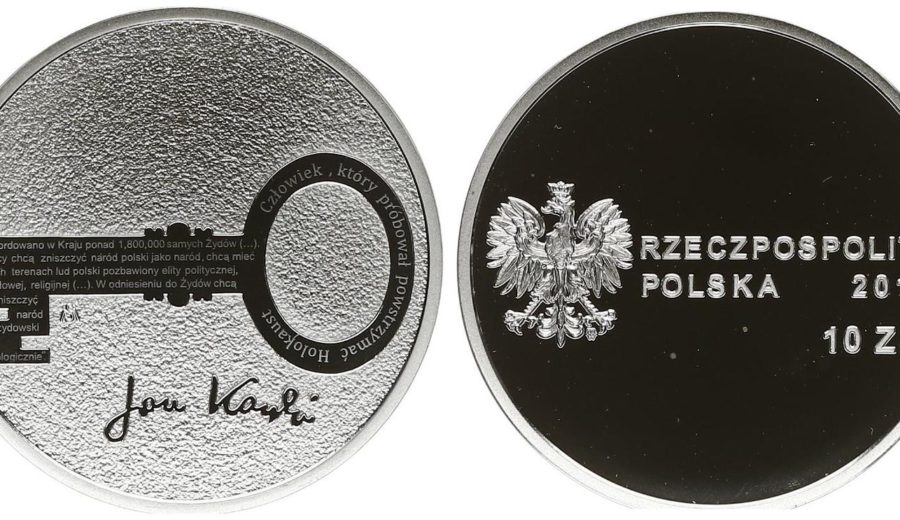 The coin was one of three coins issued by the National Bank of Poland on the 100th anniversary of Karski's birth. During World War II, Karski reported to the British and U.S. governments on the situation in Poland, especially on the destruction of the Warsaw Ghetto and the Holocaust of Polish Jews. He used a special hollowed key to smuggle the microfilms with details on the extermination of European Jews.
Karski's courage, determination and dedication helped to inform the American and British elites about the tragic events taking place under the German occupation. For that, he was bestowed with the title "Righteous Among the Nations" and the Order of the White Eagle. He died in 2000 in Washington, D.C., and was posthumously granted the Presidential Medal of Freedom – the highest civilian award of the United States
The coin project was initiated by the Jan Karski Educational Foundation and its sister organization Fundacja Edukacyjna Jana Karskiego in Warsaw, Poland. As described by the Jan Karski Educational Foundation:
The main message of this coin is the unique character of Karski's mission to inform the world about the situation in Nazi-occupied Poland, including the extermination of the Jews. It shows the image of a house key in which Karski transported the microfilms with his report to the Polish government-in-exile and to the Allies. Through the hidden elements – the micro-print of an excerpt from Karski's report and the inscription "Man Who Tried to Stop the Holocaust," which can be deciphered only through a magnifying glass – the coin conveys the mysterious and complex nature of Karski's perilous mission.
Designed by Sebastian Mikołajczak, the obverse of the collectible bears the image of an eagle established as the national emblem of the Republic of Poland, as well as the year of issue and the face value. The reverse depicts an image of a key in which Karski smuggled microfilms with the reports on Jews' situation in German-occupied Poland. The key is accompanied by a micro-printed text of a secret messages along with Karski's signature.
The coins, commissioned by NBP, were struck by Mennica Polska S.A. The mintage of the coin was limited to 30,000 in proof silver. It measure 32 mm in diameter and weighs 14.14 grams.