Latvia's Five-Euro Baltic Way Coin Named Best Contemporary COTY 2014 Dated Coin
Latvia's Baltic Way five-Euro coin (KM161) was named the "Best Contemporary" coin in Krause's Coin of the Year Awards for coins dated 2014. The coin commemorates the 25th anniversary of the Baltic Way demonstration that brought together citizens of Latvia, Lithuania, and Estonia.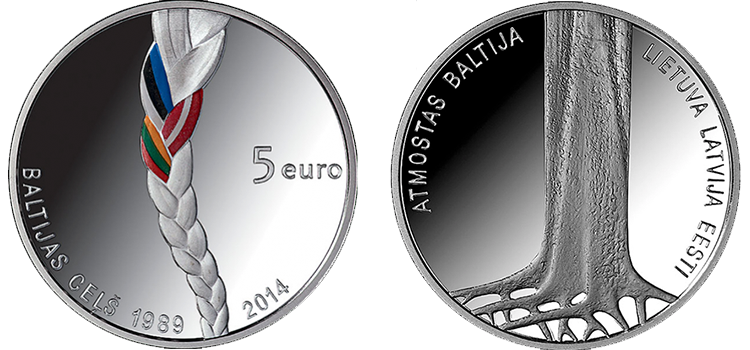 As described by the National Bank of Latvia:
On 23 August 1989 at 7 p.m., about two million residents of the Baltic countries joined hands forming a 600-kilometre-long human chain that joined Tallinn, Riga and Vilnius for 15 minutes. This unique action drew the attention of the entire world, highlighting the historical injustice and asserting that the idea of freedom and independence is very much alive in the minds and hearts of the three Baltic nations. In the lexicon of non-violent struggle, the message of Awakening, Popular Front and Singing Revolution was supplemented by another striking entry – the Baltic Way. It was like an informal referendum that demonstrated to the occupation power how united the Baltic nations were in their desire to regain their freedom and renew their independence. The Baltic Way demonstrated the effectiveness of non-violent struggle and the power of unity.
Issued by the National Bank of Latvia, the coins were struck by Koninklijke Nederlandse Munt (the Netherlands). The coin was engraved by Visvaldis Asaris, while Ligita Franckeviča created the plaster model.
The obverse is crossed by a braid with ribbons in the colors of national flags of the three Baltic Republics woven in it. The inscription "5 euro" is on the right. The lower left part of the obverse bears the semi-circled inscription BALTIJAS CEĻŠ 1989, with the year 2014 on the right.
The obverse design incorporates a tasteful use of the colors of the national flags of the three Baltic republics braided together within the ribbon that runs from rim to rim in a ninety-degree angle. The ribbon or rope is engraved in a way that creates the appearance of a three-dimensional image against a proof background field.

The reverse displays a vertical image of a tree trunk with exposed roots. There are two semi-circled inscriptions – ATMOSTAS BALTIJA (Awakening Baltics) on the left and LIETUVA LATVIJA EESTI (Lithuania Latvia Estonia) on the right. The edge features two inscriptions LATVIJAS BANKA and LATVIJAS REPUBLIKA, separated by rhombic dots.
The mintage of the Baltic Way coin, which has a silver of fineness of 0.925, was limited to 10,000. It measures 35.00 mm in diameter and weighs 22 grams.