No Currency Conversion in Turks & Caicos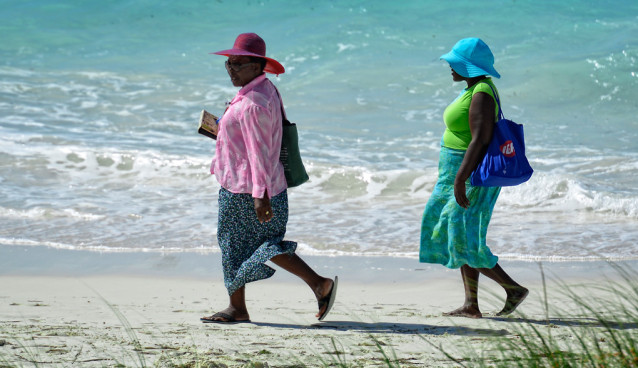 For Americans traveling to Turks & Caicos there is no need to worry about converting money or returning home from vacation with a pocket full of coins you will never use. The official currency is the U.S. dollar.
Like 50 countries across the globe, he Caribbean island chain does not mint its own money. The Turks & Caicos Treasury issues a Turks & Caicos Crown and Quarter, but no banknotes. These coins are just souvenirs and they can't be used in the island grocery store. They trade 1 crown for 1 dollar internationally, but there is a stiff premium for them if you can find them on the island.
It is not unusual for small countries to use foreign currencies. East Timor, El Salvador, Marshall Islands, Micronesia, Palau, British Virgin Islands, and Zimbabwe all use the U.S. dollar. Meanwhile, Andorra, Kosovo, Monaco, Montenegro, San Marino, Vatican City all rely the euro, although they are not officially part of the European Union.
Ecuador is another country that has "dollarized" its currency. In response to skyrocketing inflation and economic turmoil, Ecuador adopted the U.S. dollar as its official currency in 2000. Ecuador is now home to many of the U.S. one-dollar coins that Americans have shunned. Circulated small dollar coins are hard to find in the United States because only some vending machines take them. Most of the highly prized circulated small dollar coins come from Ecuador.
Several other countries belong to currency unions. Most notably, Austria, Belgium, Spain, Germany and many other European countries use the euro. Several Caribbean nations, including Antigua & Barbuda, Dominica, Grenada, and St. Lucia, use the East Caribbean dollar, which is pegged at a 1:1 ratio the U.S. dollar.
Since the ancient Greeks, images on currency have been used to communicate the values of the nation. In the modern era, when a United States nickel or penny costs more to make then its face value, many small nations import coins for their own use. This is not a new concept. The United States used foreign currencies in commerce well after George Washington became the first President.