Maria Carmela Colaneri Received the Krause Lifetime Achievement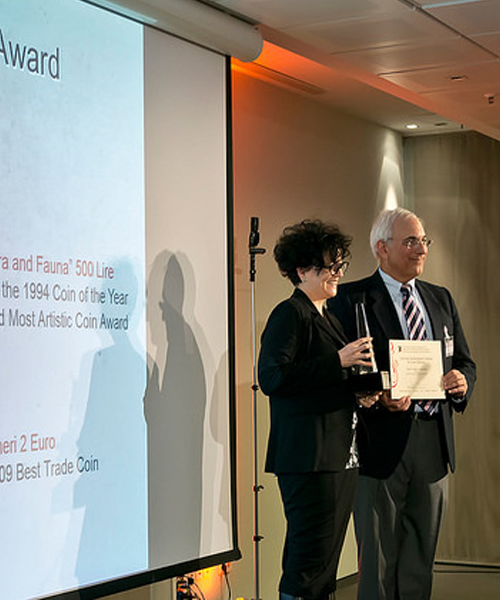 Maria Carmela Colaneri of Italy's Istituto Poligrafico e Zecca dello Stato received the Krause Lifetime Achievement Award in Coin Design at the World Mint Director's Conference held in Berlin on January 31. She accepted the award in Italian to great applause.
Maria Carmela Colaneri is best known as the designer of the Krause Coin of the Year award winner in 1994, the 500 Lira Flaura and Fauna. She also designed the Best Trade Coin for 2009, Dante Alighieri 2 Euro. That same year she was also nominated for the Most Artistic and Most Historical categories for her 5 Euro "300th Anniversary of the Ruins of Herculaneum" dated 2009. Her vitae includes over 50 coins for the Mint of Italy.
After studying medallic art techniques at the Instituto Poligrafico e Zecca dello Stato S.P.A. (the Italian Government printing House and Mint), Maria Carmela Colaneri accepted employment there as a designer and engraver of coins and medals in 1984. From 1997 to 2000 she taught engraving at the School of the Art of the Medal in Italy.
The first Biennale of Arts and Tourism held in Florence in 1983 became the occasion of Colinari's first national award. Her medal won the Saint Eligio Award for Best Award Medal at the event in Rome in 1983.
In 1998, Maria Carmela Colaneri won the prize for Most Beautiful Commemorative Coin in the coin competition at the 20th Mint Director's conference for her 5000 Lira coin commemorating the 300th anniversary of the birth of Canaletto in 1998.
Maria Carmela Colaneri received the Best Coin award by Vicenza Numismatics in 2005 for her 10 Euro of Italy honoring the Genoa European Capital of Culture dated 2004. She received an award for her "Pre-Olympic Athens"5 Euro and 10 Euro coins struck by the Republic of San Marino in 2004.
Maria Carmela Colaneri has won a Vicenza Numismatics award every year since 2008. Most recently, she won the Vicenza Numismatics 2013 international grand prize for her 10 Euro "500th Anniversary of the Sistine Chapel" commemorative for Italy dated 2012.