Complete List of Books In the Gryphon Legal Classics Library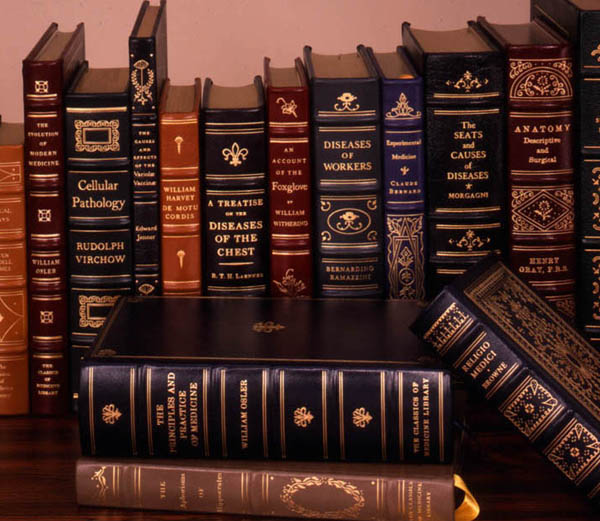 Gryphon Editions publishes nicely bound library editions of important legal classics.  The publisher offers a subscription that entitles the buyer to obtain one volume a month.
Some of the titles in the series are books that every lawyer must read.  Unfortunately, finding a complete list of every volume that has been published requires a bit of detective work.  The following list was compiled using many available sources and is believed to be complete.
More information about Grypon Editions can be found at https://gryphoneditions.com/
The Gryphon Legal Classics Library 
Alighieri, Dante; Monarchy; the Legal Classics Library; Gryphon Editions; 2014
Allen, Carlton Kemp; Law in the Making; The Legal Classics Library; Gryphon Editions; 1992
Ane, John Maxcy; The Story of Law; the Legal Classics Library; Gryphon Editions; 2013
Apokrimata; The Legal Classics Library; Gryphon Editions; 1999
Aquinas, St. Thomas; Law and Justice; The Legal Classics Library; Gryphon Editions; 1988
Aristotle; Constitution of Athens; the Legal Classics Library; Gryphon Editions; 2014
Austin, John; The Province of Jurisprudence; The Legal Classics Library; Gryphon Editions; 1984
Bacon, Francis; The Elements of the Common Laws of England; The Legal Classics Library; Gryphon Editions; 1997
Barnes, Thomas Garden; Shaping the Common Law; the Legal Classics Library; Gryphon Editions; 2008
Bentham, Jeremy; An Introduction to the Principles of Morals and Legislation; The Legal Classics Library; Gryphon Editions; 1986
Berger, Raoul; Government by Judiciary; the Legal Classics Library; Gryphon Editions; 2013
Bork, Robert H.; A Time to Speak; The Legal Classics Library; Gryphon Editions; 2014
Brierly, David: Major Legal Systems in the World Today; The Legal Classics Library; Gryphon Editions; 2000
Burke, Edmund; Select Works; The Legal Classics Library; Gryphon Editions; 1990; Volume 1 & 2
Burlamaqui, J. J.; Natural Law & Politic Law; The Legal Classics Library; Gryphon Editions; 1995
Scott, James Brown; Francisco De Vitoria and his Law of Nations; The Legal Classics Library; Gryphon Editions; 1999
Calhoun, John C.; A Disquisition on Government; The Legal Classics Library; Gryphon Editions; 1993
Carter; James Coolidge; Law: It's Origin, Growth and Function; The Legal Classics Library; Gryphon Editions; 1996
Cicero; On the Commonwealth; The Legal Classics Library; Gryphon Editions; 2012
Cohen, Morris R.; Law and the Social Order; The Legal Classics Library; Gryphon Editions; 2001
Cooley, Thomas; Constitutional Limitations; The Legal Classics Library; Gryphon Editions; 1987
Craigmyle, The Lord; The Legal Classics Library; Gryphon Editions; 2001
Daube, Henry; Studies in Biblical Law; The Legal Classics Library; Gryphon Editions; 2002
Del Vecchio, Giorgio; The Formal Bases of Law; The Legal Classics Library; Gryphon Editions; 2001
Dershowitz, Alan; The Genesis of Justice; The Legal Classics Library; Gryphon Editions; 2000; Signed Edition
Dicey, A.V.; The Law of the Constitution; The Legal Classics Library; Gryphon Editions; 1999
Dillon, John F.; The Laws and Jurisprudence of England and America; The Legal Classics Library; Gryphon Editions; 1994
Drone, Eaton S.; The Law of Property in Intellectual Productions; The Legal Classics Library; Gryphon Editions; 1987
Emery, Lucilius; Concerning Justice; The Legal Classics Library; Gryphon Editions; 2001
Farrand, Max; The Framing of the Constitution; The Legal Classics Library; Gryphon Editions; 2002
Filmer, Robert; Patriarcha; The Legal Classics Library; Gryphon Editions; 2013
Fortescue, Chancellor Sir John; De Laudibus; The Legal Classics Library; Gryphon Editions; 1984
Frank, Jerome; Law and the Modern Mind; The Legal Classics Library; Gryphon Editions; 1985
Freeman, Kathleen; The Work and Life of Solon; The Legal Classics Library; Gryphon Editions; 2014
Freeman, Kathleen; Trials from the Athenian Law Courts; The Legal Classics Library; Gryphon Editions; 1995
Gierke, Otto; Political Theories of the Middle Age; The Legal Classics Library; Gryphon Editions; 2001
Gough, J. W.; Fundamental Law; The Legal Classics Library; Gryphon Editions; 2007
Gray, John Chipman; The Nature and Sources of the Law; The Legal Classics Library; Gryphon Editions; 1985
Hale, Matthew; History of the Common Law; The Legal Classics Library; Gryphon Editions; 1987
Hand, Learned; The Spirit of Liberty & The Bill of Rights; The Legal Classics Library; Gryphon Editions; 1989
Hart; H. L. A.; The Concept of Law; The Legal Classics Library; Gryphon Editions; 1990
Herbert, A.P.; Uncommon Law; The Legal Classics Library; Gryphon Editions; 1988
Hicks, Frederick; Famous American Jury Speeches; The Legal Classics Library; Gryphon Editions; 1989
Hobbs, Thomas; Leviathan; the Legal Classics Library; Gryphon Editions; 2012
Hoebel, Llewellyn; The Cheyenne Way; The Legal Classics Library; Gryphon Editions; 1992
Holland, Thomas Erskine; Jursiprudence; The Legal Classics Library; Gryphon Editions; 1998
Holmes, Oliver Wendell, The Common Laws & Other Writings; The Legal Classics Library; Gryphon Editions; 1982
Home, Henry; Historical Law-Tracts; The Legal Classics Library; Gryphon Editions; 1988
Hooker, James; Laws of Ecclesiastical Polity; The Legal Classics Library; Gryphon Editions; 1998
Hoover, Herbert; The Challenge to Liberty; The Legal Classics Library; Gryphon Editions; 2000
Jefferson, Thomas; Notes on the State of Virginia; The Legal Classics Library; Gryphon Editions; 1955
Johns, C.H.W.; Babylonian and Assyrian Laws; The Legal Classics Library; Gryphon Editions; 1987
Kelsen, Hans; General Theory of Law and State; The Legal Classics Library; Gryphon Editions; 1990
Lewis, Bernard; The Political Language of Islam; The Legal Classics Library; Gryphon Editions; 2012
Lieber, Francis; Legal and Political Hermeneutics; The Legal Classics Library; Gryphon Editions; 1994
Llewellyn, Karl Nickerson; On Legal Realism; The Legal Classics Library; Gryphon Editions; 1986
Locke, John; Two Treatises of Government; the Legal Classics Library; Gryphon Editions; 1994
Mahan; Armaments and Arbitration; The Legal Classics Library; Gryphon Editions; 2000
Maine, Henry Sumner; Ancient Law; The Legal Classics Library; Gryphon Editions; 1982
Mallock, W. H.; A Critical Examination of Socialism; The Legal Classics Library; Gryphon Editions; 1998
McIlwain, Charles Howard ; The American Revolution; The Legal Classics Library; Gryphon Editions; 2004
Means, Berle; The Modern Corporation and Private Property; The Legal Classics Library; Gryphon Editions; 1993
Mellon, Andrew; Taxation The People's Business; The Legal Classics Library; Gryphon Editions; 2013
Mill, John Stuart; On Liberty; The Legal Classics Library; Gryphon Editions; 1992
Miller, William Ian; Bloodtaking and Peacemaking; The Legal Classics Library; Gryphon Editions; 1990; Signed Edition
Novick, Sheldon M.; Honorable Justice; The Legal Classics Library; Gryphon Editions; 1989
Paul, Rand; Government Bullies; The Legal Classics Library; Gryphon Editions; 2012
Pound, Roscoe; The Spirit of the Common Law and Other Writings; The Legal Classics Library; Gryphon Editions; 1985
Radin, Max; Law as Logic and Experience; The Legal Classics Library; Gryphon Editions; 2002
Sleeman, Colin; The "Double Tenth" Trial; The Legal Classics Library; Gryphon Editions; 2007
Stone, Harlan F.; Law and it's Administration; The Legal Classics Library; Gryphon Editions; 2004
Story, Justice; Commentarires on Equity Jurisprudence; The Legal Classics Library; Gryphon Editions; 1988
Strauss, Leo; Natural Right and History; the Legal Classics Library; Gryphon Editions; 1950
Stryker, Lloyd Paul; The Art of Advocacy; The Legal Classics Library; Gryphon Editions; 2007
The Council, Laws of the Cherokee Nation; The Legal Classics Library; Gryphon Editions; 1994
The Institutes of Justinian; The Legal Classics Library; Gryphon Editions; 1985
The Laws and Liberties of Massachusetts; The Legal Classics Library; Gryphon Editions; 1982
The Laws of Plato; The Legal Classics Library; Gryphon Editions; 2015
Townley, James; The Reasons of the Laws for Moses; The Legal Classics Library; Gryphon Editions; 2000
Tucker, St. George, View of the Constitution of the U.S.; The Legal Classics Library; Gryphon Editions; 2013
Von Jhering, Rudolph; The Struggle for Law; The Legal Classics Library; Gryphon Editions; 1991
Von Puffendorf, Samuel; On the Duty of Man and Citizen; The Legal Classics Library; Gryphon Editions; 1993
Von Savigny, Frederick Charles; Of the Vocation of Our Age for Legislation and Jursiprudence; The Legal Classics Library; Gryphon Editions; 1986
Warburton, A. F.; Trial of the Officers and Crew of the Schooner Savannah; The Legal Classics Library; Gryphon Editions; 1997
Warren, Charles; Congress, The Constitution and the Supreme Court; The Legal Classics Library; Gryphon Editions; 2007
Westin, Alan F.; The Anatomy of a Constitutional Law Case; The Legal Classics Library; Gryphon Editions; 1996
Wigmore, John Henry; The Principles of Judicial Proof; The Legal Classics Library; Gryphon Editions; 1991
Wood, Gordon; The Creation of the American Republic; The Legal Classics Library, Gryphon Editions, 2014; Signed Edition