"Short and Happy Guide" Series Should be on Every Law Student's Reading List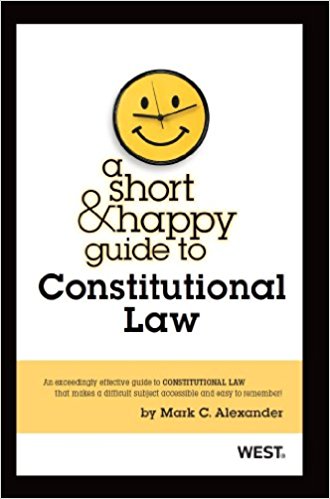 As law students prepare for their first day of law school, the Short and Happy Guide series should be on everyone's book shopping list.
The series of easy to read books provides concise summaries of law in each major area.  The books are great for law students and practitioners looking for a quick and easy read to refresh themselves. While used most frequently by law students, the series should also serve as textbooks for CLE classes.
Several NJ law professors wrote books in The Short and Happy Guide book series.  One of them is Paula Francese, a law professor at Seton Hall's Peter W. Rodino Professor of Law. Franzese is the Editor of the series. She has won the Student Bar Association's Professor of the Year Award an unprecedented ten times, has been named "Exemplary Teacher" by the American Association of Higher Education, was ranked the Top Law Professor in New Jersey by the New Jersey Law Journal and was named Faculty Teacher of the Year.
Mark Alexander is another NJ law professor who wrote a book in the series.  His book about Constitutional law is a "must read" for an overview of the topic.  Professor Alexander was at Seton Hall Law School when he wrote the book.  He is now the Dean at Villanova University Charles Widger School of Law.
While all of the titles in the series cover different areas of law, they are based on two core concepts. First, they contain compact distillations of black letter law. Second, they are written in a way that is intended to make the study of law more fun, a concept that is largely unheard of in traditional law textbooks. For students who are feeling lost in a particular class, the books can often be a lifesaver. For attorneys looking to understand the broad concepts of a particular area of law in a short time, the series is also extremely helpful.
While Francese serves as the editor for the series, she is also the author of some of the most popular titles, including A Short and Happy Guide to Property (2d ed.), A Short and Happy Guide to Being a Law Student and A Short and Happy Guide to Being a College Student. Her Seton Hall colleague, Mark Alexander, has written several titles as well. They include A Short and Happy Guide to Constitutional Law and A Short and Happy Guide to the First Amendment.
There are currently more than 20 titles in the Short and Happy Guide book series, with the latest editions including the Law of Sales and Federal Income Taxation. While both cover very complex areas of law, the Short and Happy Guides make the subject matter accessible and easy to remember.
Published by West Academic, most of the Short and Happy Guide books are available on Amazon.com. All priced around $20, they provide tremendous value for law students and lawyers alike.