Colonial Coin Book For The Holidays: New Jersey State Coppers: History, Description, Collecting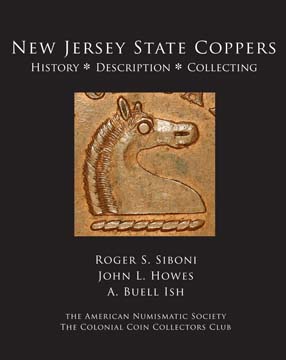 The Numismatic Literary Guild "Book of the Year" honor was recently awarded to a book about New Jersey colonial coins. New Jersey State Coppers: History, Description, Collecting by Roger S. Siboni, John L. Howes and A. Buell Ish won the guild's top honor for specialized books.
The book details the fascinating history of the New Jersey copper coinage and examines the coins struck for New Jersey by Thomas Goadsby, Albion Cox, Walter Mould, and Matthias Ogden, as well as imitations created for the collector market in the nineteenth century. New Jersey State Coppers also tells the story of how these coins ultimately became prized pieces in modern coin collections
The New Jersey General Assembly granted authority to strike copper coins beginning on June 1, 1786 and ending in June 1788 to attempt to satisfy public demand for small coins after the revolution but before the new government of the United States could be formed. These coins were struck privately in Morristown, Rahway and Elizabeth, NJ. Some were struck in New York
Attributing these copper coins by mint and die variety has been a passion for numismatists for almost two centuries. This book represents the most current scholarship in the area by three of America's leading numismatic scholars.
Author Roger S. Siboni is a former President of the American Numismatic Society, a museum and a research institute that studies the coins of all periods and cultures.
The extraordinarily researched and thought out book is the result of collaboration between the American Numismatic Society and the Colonial Coin Collectors Club.
As described by the publishers, "Every known New Jersey die variety is presented in minute detail with lavish enlarged full-color illustrations, condition censuses, as well as commentary on die states and other notable features… New Jersey State Coppers will surely become the primary tool for the study of this coinage and the basis for deepening the understanding and appreciation of its charm as old copper."
The full-color, hardcover book is 492 pages and weighs a hefty six and a half pounds, which may be daunting for some. But the quality of the book far surpasses any logistical concerns. As highlighted by Coinworld.com, "the size makes the book not one to carry on a long plane ride or curl up with at the beach. Alas, with so much information, what else could have been done? Heavy editing would not have produced a better book, and multiple volume sets can be as unwieldy as a single large volume."
The list price of New Jersey State Coppers: History, Description, Collecting is $235. However, members of the American Numismatic Society are eligible for a discounted price of $165. The book is also available on Amazon.com.