America's Cup Returns to NYC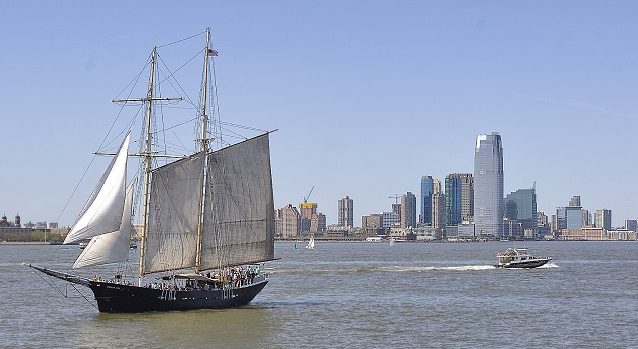 America's Cup returned to New York City last weekend for the first time since 1920.  The Hudson River provided the backdrop for the Louis Vuitton America's Cup World Series. New York is the fifth regatta leading into next year's 35th America's Cup, which will be held in Bermuda.
The last time the America's Cup was in the New York Harbor in 1920, the competing boats were Sir Thomas Lipton's 110-foot Shamrock IV and the New York Yacht Club's 106-foot Resolute. Both weighed 100 tons. During the 2017 America's Cup, the racing teams were using 50-foot foiling catamarans reaching speeds of 40 knots (or 46 mph).
The America's Cup was first awarded in 1851 when Britain challenged the United States to race around England's Isle of Wight. The Royal Yacht Squadron was defeated by the New York Yacht Club's (NYYC) schooner America. The Royal Yacht Squadron Cup was renamed the America's Cup after the trophy was donated to NYYC to be held in trust as a "challenge trophy."
While this year's America's Cup race was a must-see event, from 1870 through 1920, racing traditionally took place in the waters of New York. In 1930, the sailing competition was moved to Newport, Rhode Island. It remained there until the New York Yacht Club finally lost the Cup in 1983, which had been the longest winning streak in sport history.
Sailing on the Hudson River last weekend was unlike any other race in the circuit. Notwithstanding the weather, crowds lined both sides of the river with various companies, including Mack Cali who owns Harborside in Jersey City, hosting parties for special guests.  Sailing in the NY harbor is challenging with wind blowing through the skyscrapers and currents running up to 4 knots.  With a rainy weekend the sailing was even more challenging.
Last weekend's race is one of the six events held this year that counts for the 2017 Cup. The U.S. Team — Oracle — is the current trophy holder, winning America's Cup in 2013. So far this series, Emirates Team New Zealand has the most points (192) after placing in the top three in all four completed regattas.