The Turks and Caicos Island's Barrier Reef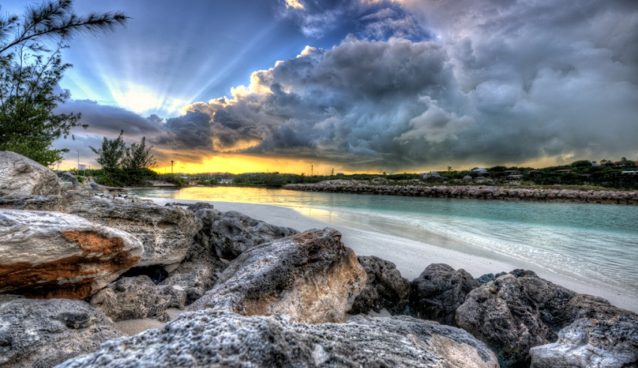 It is not surprise that Grace Bay Beach has been rated the number one beach in the world.  The 26 shades of blue are a delight for the eye and the clear water with white sand bottom is a delight for the senses.  It's all because of the geology of the island chain and the protection afforded by the "junior" great barrier reef (since the "great barrier reef" is in Australia).
An estimated 60 species of coral form the reef in the waters off TCI, including staghorn, elkhorn, pillar, brain, sea fans, and sea plumes. The well-preserved reef ecosystem is host to a wide range of aquatic creatures, including yellowtail snapper, Nassau groupers, lobsters, flamingo tongue snails, barracuda, and sea turtles. The reefs are all part of TCI's national park system and, therefore, remain pristine.
For scuba divers, the main attraction is the the Caicos Bank, an underwater shelf that surrounds the Caicos Islands. Most dive sites are easily accessible and located less than an hour from the shore. Popular spots include Grace Bay, Northwest Point Marine National Park and Pine Cay at West Caicos, where divers can see a wide variety of tropical fish, sea turtles, nurse sharks, and eagle rays.
While Providenciales is home to TCI's best restaurants and hotels, experienced divers often travel to the less-inhabited Grand Turk. The island's best known dive sites are located within Columbus Landfall National Park. In late winter, divers may even catch a glimpse of migrating humpback whales.
The Turks and Caicos Islands are also unique in that several amazing snorkeling sites are located just offshore. The two best are Smith's Reef and Bight Reef, both of which are located in Providenciales' Princess Alexandra National Park. Smith's Reef, near Turtle Cove Marina, features underwater placards that describe what snorkelers may see when swimming through the vibrant ecosystem. Bight Reef, which can be found right offshore from the Coral Gardens resort on Grace Bay, also includes a marked coral trail with informatory signs.
Most resorts provide complimentary use of snorkeling gear. There are also a number of companies that provide guided snorkeling excursions. For those who prefer to swim or relax on the beach, the barrier reef is also largely responsible for the calm, clear, and beautiful turquoise water that TCI is famous for.