Yoko Ono Takes Center Stage at New MoMA Exhibit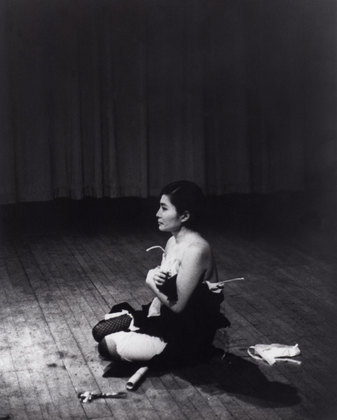 After forty years, Yoko Ono has finally made her official debut at New York City's Museum of Modern Art. "Yoko Ono: One Woman Show, 1960-1971" opened on May 17 and runs through September 7, 2015.
While Yoko Ono is most well known as John Lennon's widow, she is an accomplished avant-garde artist in her own right, known for pushing the boundaries of modern art through performance, film, and writing.
Yoko Ono was born in Japan and moved the United States in 1953, where she ultimately became involved in the New York City art scene. She met Lennon while exhibiting her work in London in 1966. While Lennon's fame ultimately dwarfed her individual success, Yoko Ono continued to be an active member of the art world. John Lennon once described her as "the world's most famous unknown artist: everybody knows her name, but nobody knows what she does".
In 1971, Yoko Ono announced she was holding an unauthorized exhibition at the MoMA irreverently titled "Museum Of Modern (F)art." However, when visitors arrived at the museum, there was no exhibit, only a sign outside the entrance that said Ono had released flies on the Museum grounds. The public was invited to track the flies as they dispersed across the city.
The rest of Ono's conceptual art, experimental film, and performance art is just as radical. As described by the MoMA's exhibition summary: "Though easily overlooked, the work radically questioned the division between art and the everyday by asking viewers to participate in its completion. At times poetic, humorous, sinister, and idealistic, Ono's early text-based works anticipated the objects that she presented throughout the decade, including Grapefruit (1964), her influential book of instructions; Apple (1966), a solitary piece of fruit placed on a Plexiglas pedestal; and Half-A-Room (1967), an installation of bisected domestic objects."
Recently, retrospectives of Ono's work have been held across the world. In 2012, Ono won the 2012 Oskar Kokoschka Prize, Austria's highest award for applied contemporary art. In 2013, she celebrated her 80th birthday with largest retrospective of her work, Half-a-Wind Show at the Schirn Kunsthalle Frankfurt. The exhibit traveled to Denmark's Louisiana Museum of Modern Art, Austria's Kunsthalle Krems, and Spain's Guggenheim Museum Bilbao.
This summer's MoMA exhibit focuses exclusively on Ono's early work. "Yoko Ono: One Woman Show, 1960-1971" features approximately 125 of Ono's display objects, works on paper, installations, performances, audio recordings, and films. Of the exhibit, Ono stated: "It is really good to know that everything you do is going to be recognized by people, and one day it is going to blossom. And that's the reason why I am here now and why we are doing this show."
The exhibition is organized by Christophe Cherix, The Robert Lehman Foundation Chief Curator of Drawings and Prints; and Klaus Biesenbach, Chief Curator at Large, MoMA, and Director, MoMA PS1; with Francesca Wilmott, Curatorial Assistant, Department of Drawings and Prints. For additional details, visit the Museum of Modern Art's website (https://www.moma.org).