Late Night Show Features a New Type of "Star"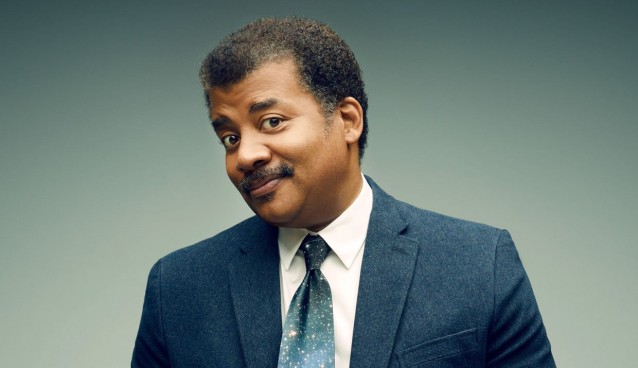 Forget Jimmy Fallon and David Letterman. There is a new rising star on late night — astrophysicist Neil deGrasse Tyson. This spring, National Geographic debuted StarTalk, a late-night talk show devoted exclusively to science.
"There's no monologue and no band," Tyson told the Washington Post. "But it's a talk show on at 11 p.m. — the heart of the evening talk show universe — and as far as we've been able to research, it's the first talk show focused on science."
Neil DeGrasse Tyson maintains that there are more American adults out there that like to "geek out" than some might think. His wildly popular radio show, also called StarTalk, is just one example. It is currently the most downloaded podcast across all genres. Last year, Tyson also successfully brought a modern take to Carl Sagan's classic COSMOS: A Spacetime Odyssey. 
As arguably the most popular scientist on social media, Tyson is hoping his own rising stardom will boost the show's success. "My Twitter stream is rising past 3.5 million followers," he stated. "That number has to be bigger than the total number of pure geeks out there. It's attracting people with an inner, unmanifested kind of geekiness."
StarTalk is also designed to appeal to a general audience and bring science to the masses. Each show features a well-known celebrity that will discuss his or her own favorite scientific topic in an interview format. The first episode featured Star Trek's George Takei, and future guests will include President Jimmy Carter, Astronaut Chris Hadfield, and Author Ariana Huffington. The show also features weekly appearances by Bill Nye the Science Guy, arguably the second most famous scientist in popular culture.
Like all late-night talk shows, StarTalk is filmed before a live studio audience. Instead of a television studio, however, guests take the stage of the Rose Center for Earth and Space in New York City, where Tyson serves as the director of the Hayden Planetarium.
If you missed the StarTalk premiere on April 20, you can find it on the National Geographic Channel on Sunday nights at 11 p.m. EST.