Whitney Museum to Debut New Building This Spring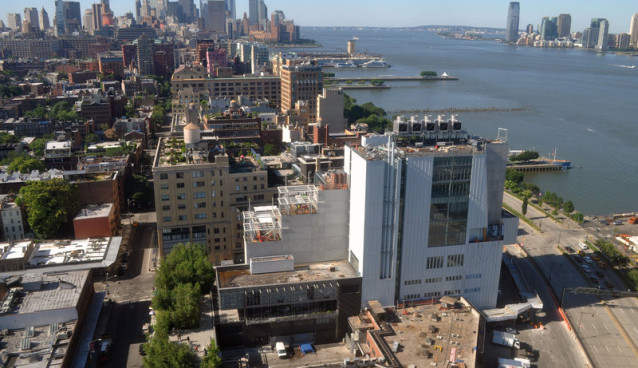 The Whitney Museum of American Art has come home to Greenwich Village.
The new Whitney Museum building is located at 99 Gansevoort Street in the Meatpacking District within walking distance from its original home at McDougal Alley. Founded in 1930 by sculptor Gertrude Vanderbilt Whitney, the museum features one of the most impressive collections of modern and contemporary American art.
As it has in the past, the Whitney outgrew its old location, most recently the Marcel Breuer building on the Upper East Side. The new building, which has been under construction since 2011, contains 200,000-square-feet of space, including 50,000 square feet of indoor galleries and 13,000 square feet of outdoor exhibition space. According to the Whitney, the new facility features an expansive gallery for special exhibitions that measures 18,000 square feet and will be the largest column-free museum gallery in New York City. The building also contains an education center, a 170-seat theater, two restaurants, a retail shop, and a study center.
As expected, the building itself is a work of art — a sculpture of concrete and glass nestled between the Hudson River and the High Line. As described by the building's architect, Renzo Piano:
The design for the new museum emerges equally from a close study of the Whitney's needs and from a response to this remarkable site. We wanted to draw on its vitality and at the same time enhance its rich character. The first big gesture, then, is the cantilevered entrance, which transforms the area outside the building into a large, sheltered public space. At this gathering place beneath the High Line, visitors will see through the building entrance and the large windows on the west side to the Hudson River beyond. Here, all at once, you have the water, the park, the powerful industrial structures and the exciting mix of people, brought together and focused by this new building and the experience of art.

The Whitney is currently closed in preparation for the opening of its new building. However, the museum has increased its online collection to fill the void. Additional information about the new building can be found at museum's website at http://whitney.org.