From Vinyl to High Resolution Audio at the New York Audio Show 2014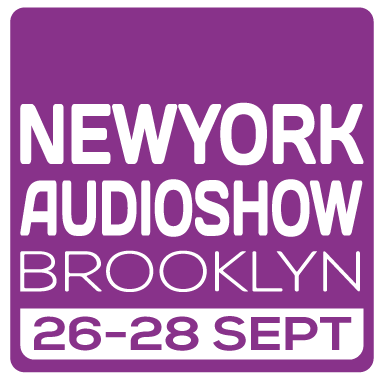 New York Audio Show was held on September 27, 28 and 29 at the Marriott Hotel in Brooklyn offering 45 rooms of new audio gear to eager audiophiles, industry experts and enthusiasts.
Maybe because of the suitability of "small" products for "small" New York City apartments, the show this year seemed to feature audiophile quality reproduction equipment that could be enjoyed without fear of eviction or a letter from a New York City co-op board.
The VPI Nomad was prominent. One exhibitor played the Nomad in a comparison test with digital music and the Nomad held its own. Of course the Nomad did not reproduce the highs and the lows with as much clarity as the digital, and the Nomad was more fuzzy or hollow when used as a component on a $50,000 sound system but at the $1000 price point that includes a built in phono pre-amp and headphone amp, the Nomad is the reigning best new product of the year.
VPI had two rooms at the show. One room featured a preview of the soon to be released Scout Junior. It will be offered at a price point between the VPI Traveler and the Scout, probably around $1,800. It features a new technology tone arm that seems to cause it to outperform both the Traveler and the Scout.
Dr. Poh Ser Hsu, owner of HSU Research exhibited his new bookshelf speakers. These two small speakers with a subwoofer reproduce a big sound with a lot of depth and dynamic range. The sound was so big that people were looking for larger speakers hidden somewhere in the room. At just under $200, these speakers compete with speakers ten times the price.
Keeping it small, April Music exhibited an amazingly high quality receiver/transport devise that is no bigger than a child's lunch box. They paired it perfectly with small Davis Speakers to create a shockingly big sound with bold dynamic range with a very small gear footprint.
Among the rooms of headphones at the show, the Emperor KS Vacuum Tube Amplifier M-20 designed for and sold only with the Emperor electrostatic headphones make beautiful music together. The headphone and amplifier pairing is available for less the price of the Audeze 3 and the sound quality is competitive.
Along with two floors of exhibits, there was a full schedule of seminars. David Chesky and Mark Waldrep were on hand to talk about the latest development in high resolution audio. Michael Fremer was also present for two sessions of his popular turntable set up seminar.
While some people expressed their disappointment that Apple IOS 8 does not support High Resolution Audio, hope continues. In the meantime, new products like Sony's new digital Walkman at $300 and Sony's HRA digital streaming devise had a line of people wanting a listen.