Using Apple Lossless Compressed To Improve Sound Quality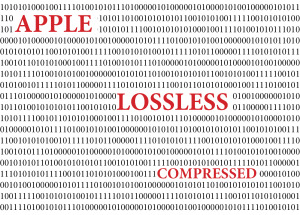 It always seemed logical that music CDs copied from a computer CD ROM drive would retain the same sound quality if played back by the same computer. The computer simply copies sets of 1's and 0's after all, right? Logically, it seemed that the sound quality would remain the same, but upon further investigation and an experiment of my own, I found that this was not the case.
There are two reasons why copied music from the computer's CD ROM drive will not sound the same played back. First, the computer's sound card is used to convert the 1's and 0's for Playback. By replacing that sound card with a DAC as discussed in a previous article, better sound quality is achievable. The second reason has to do with compression. Compressed music reduces the digital file size by eliminating some of the 1's and 0's that usually record the highs and lows. Simply put, compressed files do not contain all of the information that your original CD contains.
Recording your CDs to your hard drive is called, "ripping." It can be done using your computer's own software for music files or it can be done in iTunes. Several years ago iTunes offered an option called, "Apple Lossless Compressed." This format records the 1's and 0's without compressing the file. Be sure to use this format if you are using iTunes.
Not too long ago, hard drive space was expensive. The iPod was successful because you could play thousands of songs on a small portable device, but, to accomplish this, the music had to be compressed. Compression causes a loss of information and that loss degrades the sound.
After my iTunes music file was destroyed in the crash of my last laptop, I went back to my original CDs and ripped them into iTunes again. This time I used Apple Lossless compressed, which was not offered when I had originally copied my CDs into iTunes.  The only compressed files I own now are the ones I bought on iTunes. Buying music on iTunes is a bad idea for all the reasons I discuss in a previous article.
When you rip CDs without compression by using Apple Lossless Compressed, there is a cost of hard drive space.  The music file that is about 200 mb in a compressed format is now 800mb in an uncompressed file—a full four times the size.  However, the sound quality using some of the components discussed in this series is dramatically improved when the music is not compressed. The small investment of time to re-rip CDs and the small investment in one terabyte portable hard drive is the least expensive tweak to get high quality digital sound from your computer.

March 20, 2012

Donald Scarinci