Supreme Court Chief Justice John Marshall: Two Great Reads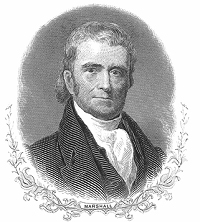 John Marshall: The Chief Justice Who Saved the Nation, by Harlow Giles Unger; DaCapo Press (2014)
John Marshall: Definer of a Nation, By Jean Edward Smith; Henry Holt & Co (1996)
John Marshall, who served as Chief Justice of the Supreme Court of the United States from 1801 to 1835, is credited with elevating the Supreme Court to its current position and laying the foundation for U.S. constitutional law jurisprudence. Many people consider him the greatest Chief Justice to have ever served on the U.S. Supreme Court.
Over his three-decade career on the Court, Chief Justice John Marshall heard more than 1,000 cases and wrote 519 decisions. His landmark decisions include Marbury v. Madison, which established the concept of judicial review, and McCulloch v. Maryland, which relied on the "necessary and proper" clause of the United States Constitution to uphold the federal government's creation of a national bank.
There are many books that detail the life and career of Chief Justice Marshall including the classic multi volume biography by Albert Jeremiah Beveridge. However, two of the best biographies are "The Chief Justice Who Saved the Nation" by Harlow Giles Unger, and, "John Marshall: Definer of a Nation," by Jean Edward Smith.
In "The Chief Justice Who Saved the Nation," award-winning author Harlow Giles Unger provides a comprehensive biography of the Marshall that chronicles his personal and professional life. While many books about the Chief Justice focus exclusively on his time on the U.S. Supreme Court, Unger details Marshall's service in the Revolutionary War, family life, and early legal career.
The most compelling aspect of Unger's biography is the insight into the early democracy and the often-competing personalities that helped shape it. As stated by Bookviews, "One man who played an extraordinary role in defending the Constitution is finally given his rightful honors in Harlow Giles Unger's book…A book that will give you a very different view of the men we hold in such great honor…A great book."
The second book, "John Marshall: Definer of a Nation," is largely regarded as the definitive biography of Chief Justice John Marshall. At 800 pages, the book is not a light read. Nonetheless, the scholarly work, which relies heavily on Marshall's own writing, provides a compelling account of how the Chief Justice helped shape a nation.
The book won widespread critical acclaim, included being designated a New York Times Notable Book of 1996. As reviewed by the Wall Street Journal, Jean Edward Smith "does an excellent job of recounting the details of Marshall's life without missing the dramatic sweep of the history it encompassed."

Both John Marshall: The Chief Justice Who Saved the Nation and John Marshall: Definer of a Nation are available on Amazon.com.