The Who "My Generation" CD Box Set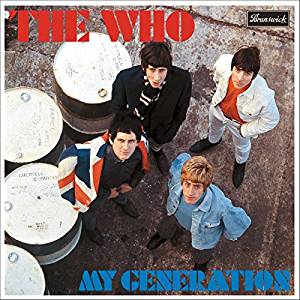 The Who marked the 50th anniversary of their debut album, My Generation, by releasing a new massive box set. The five-disc box set features a remastered edition of the album in mono and many never-before-released tracks.
While it is a great way to commemorate a first album by an important rock group, the album isn't particularly memorable and the remasters are better than the originals, but only marginally.  Buy this set for the amazing book and the previously unreleased material.  It is a treasure trove.
The Who released their debut album in the United Kingdom in 1965. One year later, the album was released in the United States under the title, The Who Sings My Generation. The record made an impact on both sides of the pond, giving a voice the rebellion of a generation. Over the decades, the title track alone has been covered by artists, including Oasis, Green Day, Patti Smith, Billy Joel, Alice Cooper and Iron Maiden.
Pete Townshend discovered tapes
While on a break from touring in 2015, Pete Townshend discovered tapes in his audio archive featuring previously unheard demos for the album. The treasure trove of audio included three completely new songs: "The Girls I Could Have Had," "As Children We Grew," and "My Own Love."
"Gathering these demos for this collection has been enjoyable; it's wonderful for me to have these tapes made 52 years ago to listen to," Pete Townshend said of creating the box set. "I hope you enjoy them. They have a naiveté and innocence, a simplicity and directness, and an ingenuousness that reveals me as a young man struggling to keep up with the more mature and developed men around me. What an incredible group of strong, talented, young and engaging men they were!"
The first CD includes re-mastered mono mixes of the original album. The second CD includes new stereo mixes that were remixed back in 2014 and only released on iTunes.
For the missing overdubs, Townshend used exactly the same guitars and amps as the original album, and Roger Daltrey used same type of microphone. The remainder of the CDs include mono and stereo mixes of several bonus tracks and demos, many of which were previously unreleased.
The box set also includes an 80-page book with many rare photos of the group and unique memorabilia, such as a flyer for The Who's Tuesday night residency at the Marquee Club 1965. Townshend also wrote new liner notes detailing the genesis of the demos and the band's creative process. Another addition is a new essay by acclaimed music writer Mark Blake with additional track annotation by Who biographer Andy Neill.
The Who box set is available on Amazon.com.