New Tech Allows Coin Auction Search by Image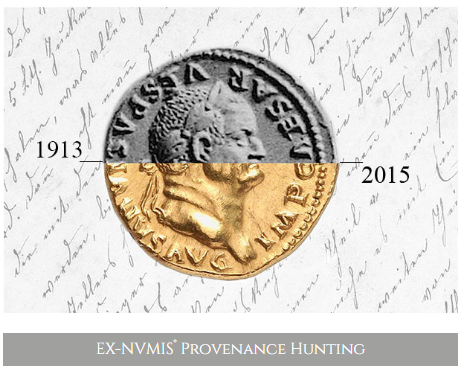 A revolutionary new technology allows collectors to quickly identify or verify a coin's provenance. The website, Ex-Numis, uses image recognition software to locate coins illustrated in auction catalogs.
The new technology is the brainchild of Dr. Jonas Flueck, a professional numismatic dealer and an auctioneer for a Swiss auction house in Zurich. The idea is to make the task of determining a coin's provenance (or chain of ownership) much easier. When seeking to determine an ancient coin's pedigree, collectors, museums, and coin dealers would previously search through thousands of auction catalogues. Understandably, the research process is tedious and time-consuming.
The Importance of Provenance
As Ex-Numis highlights on its website, a coin's provenance is quickly becoming as important as quality and rarity when it comes to determining value. The legal considerations associated with ancient coins are also becoming more complex. In light of new import restrictions and laws protecting antiquities, it is essential to know if a coin was found during recent lootings or otherwise of illegal origin.
"Syrian and Iraqi wars have reinforced concerns regarding the trading of looted antiquities used to finance terrorist activities. In other words, the future for collecting and trading with Ancient coins does not look very bright," the website states.
How Ex-Numis Works
Once the user uploads a picture of the ancient coin, the website uses digital image recognition to search for a lost provenance within almost one million records of ancient coins (Greek, Roman, Byzantine & Celtics) sold through auctions from the end of the 19th century to the begin of the 2000's (before coinarchives & ACsearch). Auction catalogs include Ars Classica S.A, Adolph Hess Nachf., Dr. Jacob Hirsch, Otto Helbing, Münzen & Medaillen AG, Münzhandlung Basel, Sally Rosenberg, Felix Schlessinger, Adolph Hess AG & Bank Leu AG, and Numismatica Ars Classica. Users will receive a notification regarding the coin's provenance (or lack thereof) within 24 hours.
The service does come at a cost, with users purchasing credit units. However, with the exception of a handling fee of five credits charged for every submission, the user only pays if a provenance is found. In addition, first time users receive 25 free credits.