Queen Vinyl Box Set Becoming a Collectable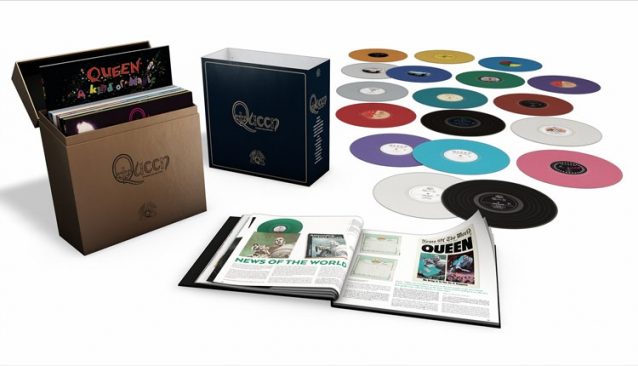 Queen released a complete Studio Album Collection in vinyl last year.  It was priced at $300 and it became an instant collector's item.  It is not quite up there with the Beatles box set produced by the Mobile Fidelity Sound Labs in the 80's which is now priced at $2000, but it is selling for higher than original issue price when you can find a set and it is worth every penny.
The box set features all 15 studio albums pressed on heavyweight 180 gram colored vinyl. Each record has its own color that compliments its original artwork, which is a cool feature for collectors.
According to the band, the box set took five years to make and involved a painstaking mastering process. The Queen Studio Album Collection was remastered by Bob Ludwig and cut at Abbey Road studios, where Miles Showell has revolutionized the technique of cutting lacquers at half speed.
Many Queen fans questioned why Bob Ludwig's 96k/24bit master files were used rather original analog tapes. According to Ludwig, the decision was necessary to create the "perfect" sound that the band wanted after the effects of time impacted the analogue mix tapes, resulting in speed errors, missing audio, newly developing clicks and other unwanted noise.
As Ludwig explains:
I mastered everything from the original master tapes, but the final product, in order to sound like they wanted it to sound, HAD to be cut from the high resolution EQ masters. The difference between some of the first generation mixes and the tape copies of them that had to be inserted into the original cutting album masters was sometimes staggeringly better, for SURE it made for a better final product. Believe me, they spared NO expense on doing it as perfectly as they thought they possibly could.
Ludwig's response clears up the speculation and highlights how invested the members of the band were in the final product.
While the box set includes 15 albums, there are actually 18 discs. Innuendo and Made in Heaven were both pressed as two LPs for the collection. In addition, Queen II was pressed as a two-LP set, one black vinyl for side black and white vinyl for side white. Each also includes custom etching on flip side.
The box set also comes with an impressive 108-page hardback book that includes written introductions to each album, commentary from the band, and rare photographs and memorabilia from the Queen Archive. While the price tag is steep at over $300, it also includes a Back To Black coupon to obtain digital downloads of all the tracks. The Queen box set is available at Amazon.com and other online retailers.