"Table for 9: Supreme Court Food Traditions & Recipes" Offers Unique Take on SCOTUS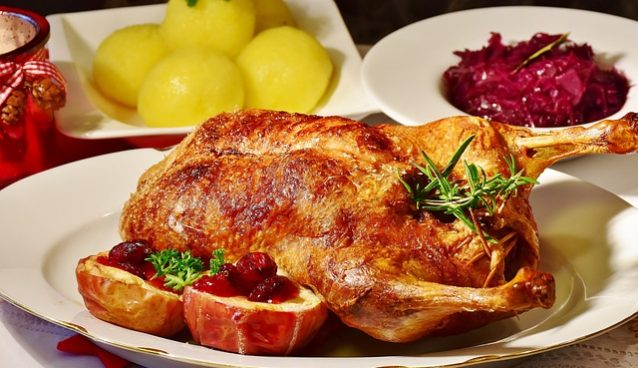 There are thousands of books about the U.S. Supreme Court, each trying to offer a different take on the country's highest court. "Table for 9: Supreme Court Food Traditions & Recipes" is one of the few books that actually succeeds at doing so. 
In her new book, Clare Cushman of the Supreme Court Historical Society combines recipes and history to create a new and compelling look at the justices of the Supreme Court. "Food in good company has sustained Supreme Court Justices through the ages," writes Justice Ruth Bader Ginsburg in the forward to the book.
Cushman relies on a variety of sources, including letters, pictures, and more than 40 recipes, to describe the food traditions of the Supreme Court. As described by the publisher, it includes stories of the justices eating at tables hidden behind the bench in the Courtroom; lunching together in their private dining room; hosting welcome and farewell dinners for each other in their homes, at the Court or on the yacht Sequoia; sharing breakfast with law clerks in the cafeteria; and being invited by the president to the White House.
For instance, Justice Joseph Story wrote in a letter to a friend:
We dine once a year with the President, and that is all. On other days we take our dinner together, and discuss at table the questions which are argued before us. We are great ascetics, and even deny ourselves wine, except in wet weather [when it is medicinally advisable]. 
What I say about wine, sir, gives you our rule; but it does sometimes happen that the Chief Justice will say to me, when the cloth is removed, "Brother Story, step to the window and see if it does not look like rain." And if I tell him that the sun is shining brightly, Judge Marshall will sometimes reply, "All the better for our jurisdiction extends over so large a territory that the doctrine of changes makes it certain that it must be raining somewhere." You know that the Chief was brought up upon Federalism and Madeira, and he is not the man to outgrow his early prejudices.
While food may seem like a trivial topic, getting together informally is one of the ways the justices have built relationships with one another.  As Cushman writes, "[t]o foster harmonious working relations, they have traditionally sought opportunities to enhance cordiality and cooperation by breaking bread together."
"Table for 9: Supreme Court Food Traditions & Recipes" is available via the Supreme Court Historical Society Gift Shop. It costs $22.95.