Sui Jianguo "Blind Portraits" Series Arrives in Central Park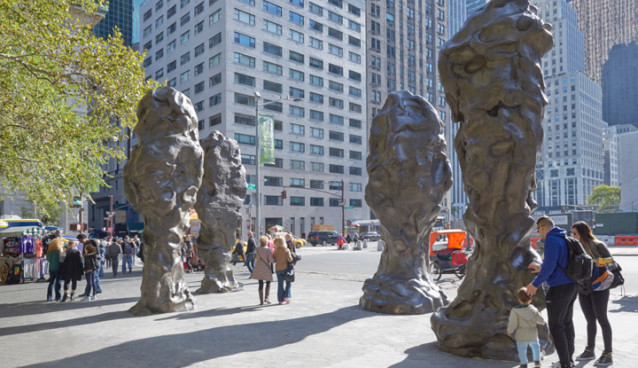 Four massive sculptures by renowned Chinese sculptor Sui Jianguo are currently on display at New York's Doris C. Freedman Plaza.
The monumental sculptures are part of Sui Jianguo's "Blind Portraits" series. While the large bronze do not quite resemble portraits, they were created "blindly." Sui created small clay models while blindfolded, which were digitized and ultimately cast in their current form. The final product is a cross between large lumps of clay and recognizable human features.
As described by the Public Art Fund, which organized the installation, "For Sui, this apparent limitation is a means of finding a different – and equally valid – method of creating sculpture. In this way, the artist brings together traditions of Chinese aesthetics and Western modernism, both of which share an interest in exploring the essential nature of materials and the effects of chance."
Sui Jianguo was born in Qingdao in 1956 and witnessed his country undergo dramatic transformations, including the Mao Cultural Revolution.
These changes are reflected in some of his most famous works, including Mao Jackets, Red Dinosaurs, and Made in China. Sui received his master's degree from Beijing's Central Academy of Fine Arts (CAFA) and currently serves as the director of its department of sculpture.
Sui Jianguo began the "Blind Portrait" series in 2008. In 2012, almost thirty of Sui's works, including Blind Portrait sculptures, we displayed by Pace Beijing. The current exhibit will mark the debut of this series in the United States. According to curator Nicholas Baume, "About 10 years ago I saw one of his 'Mao Jackets' outside of the Asia Society. And I have been fascinated by his development as an artist."
The Doris C. Freedman Plaza is located at the southeast entrance of Central Park, Fifth Avenue at 60th Street. The exhibit will run through February 20, 2015.
Feel free to share your experience viewing the "Blind Portrait" by Sui Jianguo in the comment section below.