Sources For High Resolution Audio Defined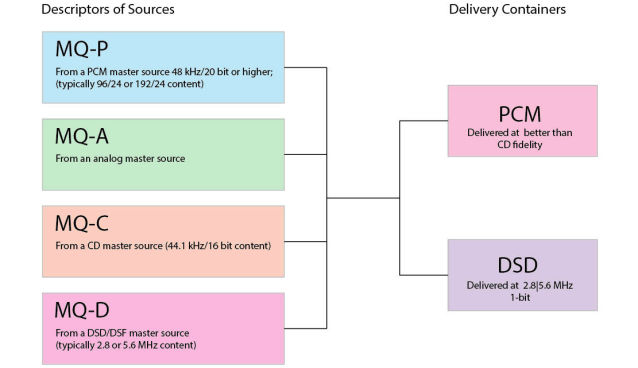 In addition to a standard definition of high resolution audio (HRA), in June, 2014, the music industry also agreed on standard labels they will use so music lovers can identify the source of the high resolution digital recording they are buying.
As previously reported in June, several organizations in the music industry — including the Consumer Electronics Association, the Recording Academy, and three major record labels —defined HRA as "lossless audio that is capable of reproducing the full range of sound from recordings that have been mastered from better than CD quality music sources."
In addition to this definition, the consortium also released four descriptors, which are intended to inform consumers about the provenance of source recordings that are used to produce the hi-res files available to music retailer. Essentially, the terms let consumers know where the tracks came from before they were converted into hi-res files.  These are:
MQ-P: From a PCM master source 48 kHz/20 bit or higher; (typically 96/24 or 192/24 content)
MQ-A: From an analog master source
MQ-C: From a CD master source (44.1 kHz/16 bit content)
MQ-D: From a DSD/DSF master source (typically 2.8 or 5.6 MHz content)
"MQ" stands for "Master Quality," meaning that the file is produced from the first recording of the song. That's easy enough. But to decider the labels, consumers must also know the difference between PCM and DSD.
Direct Stream Digital (DSD) is the encoding technology used to create Super Audio CDs (SACD). It uses sigma-delta modulation, is 1-bit, and has a sampling rate of 2.8224 MHz. Meanwhile, pulse-code modulation (PCM) is the standard technology used to convert analog audio signals to digital for use in compact discs and computers. Audiophiles intensely debate which technology is superior, but that is a discussion for another day.
Consumers also need to know the difference between 48kHz/20-bit and 96kHz/24-bit, especially because not all files will play on all audio equipment. Standard CD quality is 16-bit/44.1kHz. Most consider top quality hi-res audio to 24-bit/192kH, but anything better than CD can qualify as HRA. The basic idea is that the more bits, the more accurately the signal is measured. Higher sampling frequency rates indicate that more samples-per-second were taken when the original analogue audio was converted into digital. which also results in higher quality.
Find out how high resolution audio is going to change popular music software such as iTunes by checking out Rumors of the Death of iTunes Might Not Be Greatly Exaggerated