Silver Center Cent: The First and Most Important U.S. Coin?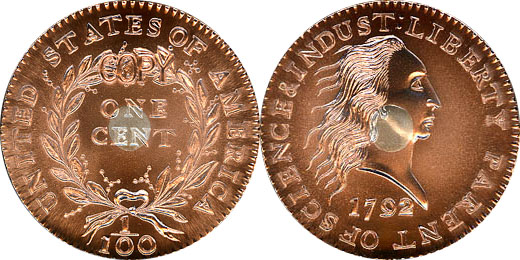 The 1792 Silver Center Cent was the first coin officially struck at the First United States Mint.
It also remains one of most significant in U.S. history, despite not being as well-known as other rare coins.
The Coinage Act of 1792 (also known as the Mint Act) established the United States Mint and set forth regulations for the coinage of the United States. Section 9 stated that the cent should contain 11 pennyweights of pure copper. Based on the requirements, the coin would be somewhat larger than the present-day half dollar, which was unwieldy to carry around in one's pocket.
To make the coins more practical, chief coiner Henry Voigt suggested a new design using two metals. Voigt's proposed coin was comprised of a tapered plug containing ¾ of a cent worth of silver inserted into a copper planchet worth ¼ of a cent. The resulting coin would retain its proper value, but be smaller and easier to manage.
As further detailed by Heritage Auctions, "The silver plug was to be conical in shape and inserted into a tapered hole in the copper planchet with the wider top of the plug on the obverse of the coin. When the resulting bimetallic planchet was struck on the screw press, the protruding edges of the plug would be fused with the surrounding copper and actually receive part of the design."
With regard to the coin's design, Liberty faces right with hair flowing behind. The obverse periphery reads LIBERTY PARENT OF SCIENCE & INDUSTRY, with 1792 just below the bust. The reverse has a wreath tied with a ribbon at the bottom; ONE CENT is within. Around the rim is UNITED STATES OF AMERICA with the fraction 1/100 below.
The historic coins are extremely rare because they never went into production. Instead of adding silver to the cent, Congress elected to stick with an all-copper coin and simply reduce the official weight. According to Heritage Auctions, only fourteen surviving coins have been positively identified. For those who want a firsthand look, you can find one on display at the National Numismatic Collection at the Smithsonian Institution.