Shimon Peres Congressional Gold Medal Makes History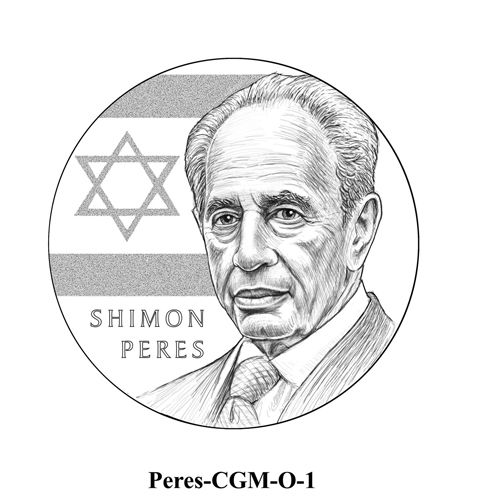 The U.S. Mint will make history this week when it shows the world that it can produce the Shimon Peres Congressional Gold Medall from concept to finished product in just over one month.
No private mint could have met the deadline set by Congress on May 22, 2014 when they authorized the award of a gold medal to Israeli President Shimon Peres for presentation to him when he visits the United States on June 25, 2014. At the age of 90, Peres will retire from public office in July. This will be his last visit to the United States.
Officials at the United States Mint led by Acting Director Richard Peterson had a medal designed by its artist-engravers, approved by the Commission on Fine Arts and the Citizens Coinage Advisory Committee, and manufactured into a final product in a little over one month. Most people, including this writer, considered this task impossible. They did it.
The single design candidate for the medal obverse, Peres-CGM-O-1, features a profile of Shimon Peres wearing a suit with an Israel flag behind him. Two options were created for the reverse, Peres-CGM-R-1 and Peres-CGM-R-2, (See image below). Both feature a dove in flight with an olive branch in its beak, while the inscriptions differ. One states, "DREAM OF A FUTURE PEACE RATHER THAN REMEMBER WARS PAST," while the other reads, "YOU ARE AS GREAT AS THE CAUSE YOU SERVE." The Citizens Coinage Advisory Committee and the Advisor to President Peres recommended the latter.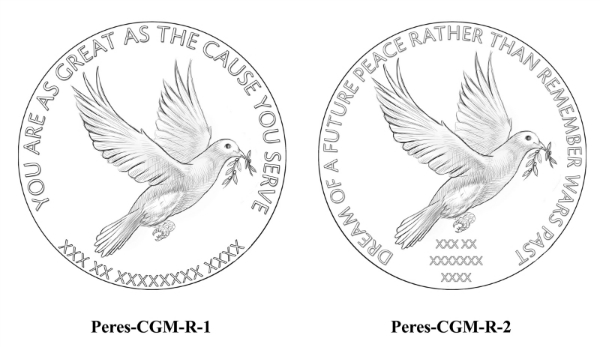 The Congressional Gold Medal is the country's highest civilian decoration, reserved for individuals who "have performed an achievement that has an impact on American history and culture that is likely to be recognized as a major achievement in the recipient's field long after the achievement."
Peres, who has served his country for more than 70 years, will be honored in for his role in maintaining strong bilateral relations between Israel and the United States. He is the first sitting President of Israel to receive the honor.
"For over 70 years President Shimon Peres has dedicated himself to the enduring bond that unites Israel and the United States," said Congressman Joe Kennedy (D-MA), who introduced the bill. "There has been no greater champion for our shared values and defender of our shared interests. The signing of this bill into law signifies that Congress, the President and the American people stand strong in our support of Israel and her people. In recognition of his tireless efforts and of the friendship embedded deeply between our two countries, I am honored to have introduced this bill with my colleagues and to see it signed by the President."
Peres is one of ten individuals to have ever been awarded both the Congressional Gold Medal and the Presidential Medal of Freedom. Other dual recipients include Nelson Mandela, Martin Luther King, and Elie Wiesel. Peres is also a Nobel Peace Prize laureate.