Off the Beaten Path in Corsica & Sardinia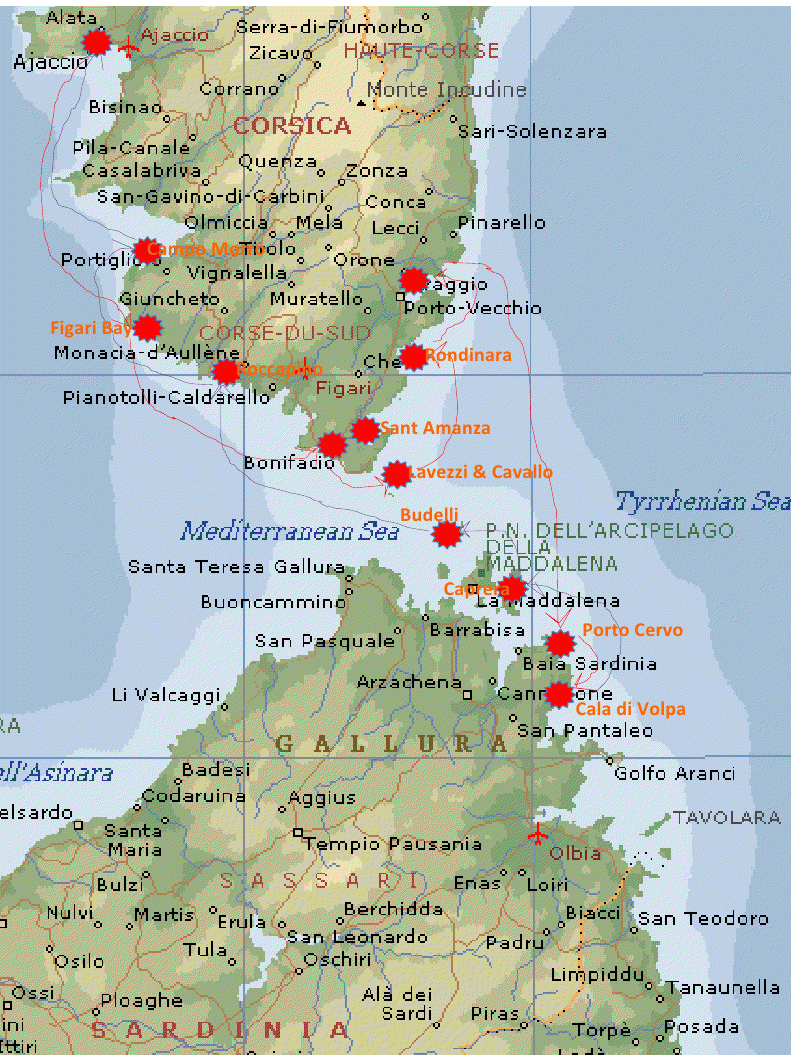 Flying to Ajaccio, Corsica takes some careful planning.  It is a lot like getting to Martha's Vineyard, and the timing of the flights needs to be right.  We arrived in Nice, France and waited five hours for our flight to Ajaccio.
Ajaccio is on the Gulf of Valinco, one of the most beautiful places on the west coast of the island.  We will be boarding the sailboat at Porto Pollo, a little port nearby.
From Ajaccio we will sail to Figari Bay and no doubt eat at one of the restaurants on the beach that is reachable only by dingy.  I will wear my "Sidney's Peace & Love" tee shirt from our sail a decade ago to Jost Van Dyke in the Virgin Islands. When we were there, we had to radio in our dinner reservation and order, anchor for the night, and then dingy in for dinner on the beach.
I am hoping we will have an opportunity to see Cavallo Island.  Scholars consider this island one of the possible sites for the land of the sirens in Homer's Odyssey.  The Romans cut granite there to build the monuments of Rome until the time of Augustus.  Unfortunately, as it might have been for Odysseus, it is pretty dangerous to navigate around, so hopefully by this point in the trip my sailing skills will all come back to me and I'll be a good crewman.
We won't be spending much time in Sardinia.  However, I suspect we will get to swim in the Gulf of Rondinara.  There is a beautiful beach there that is so secluded from the Mediterranean that you feel like you are swimming in a lake.
The sailboat that will be our home for two weeks is a 52-foot custom built boat with "power everything" and two water de-salinators.  We won't exactly be roughing it, but one of the things that is so much fun about sailing is getting to these impossible to reach destinations that are off the beaten path and far from the typical tourist routes.
Trips to remote places mean that most people are not likely to speak English.  Exotic locations also come with the inconvenience of being disconnected from telephone and internet service.  Fortunately, Lars speaks five languages and Beverly speaks three; and, with a little advance planning and with a great office of professionals left behind, disconnecting from the internet and the telephone for a time isn't all that bad.