Royal Mint Unveils New Queen Elizabeth II Effigy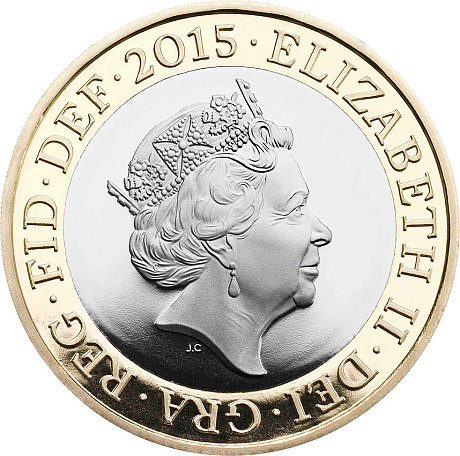 Britain's Queen Elizabeth II continues to age gracefully both in life and in coin.
The Royal Mint recently unveiled the fifth effigy of the monarch, who has spent more than 63 years on the throne. The new design will be used on British coinage as well as on colonial and Commonwealth nation's coinage around the world. The Queen's first effigy, created by Sculptor Mary Gillick, was unveiled shortly after she was crowned at the age of 26. She looks more like a young commoner than British royalty with a laurel wreath atop her head, reflecting the optimism and freshness that comes with a new monarch.
In 1968, Sculptor Arnold Machin was commissioned to create an updated royal portrait. The first portrait was officially retired in 1971 when the United Kingdom converted its coinage to the decimal system, although some coins still remain in circulation. Most notably, the Gillick portrait is still featured on coins given out by the monarchy on Maundy Thursday.
Two additional definitive portraits of the Queen were created for the country's coinage during the Queen's 63-year reign. As noted by the Royal Mint, "The coins that carry them tell the story of Her Majesty's lifetime and paint a compelling picture of the story of her reign."
The designer of the latest effigy is not much older than Queen Elizabeth was when she took the throne. Jody Clark is just 33, the youngest artist to ever have his royal portrait selected for numismatic purposes. Clark has worked as a designer at the Royal Mint since 2012, and his design was selected during a closed competition commissioned by the Royal Mint Advisory Committee (RMAC).
As Clark told CoinUpdate.com, this is certainly the highlight of his young career. "It's very overwhelming at the moment, it's going to take a while for it all to sink in, and take a few months when I actually see the coins in circulation for me to have it all really sink in," Clark stated.
Starting March 2, all coins produced at the Royal Mint will include the updated royal portrait of Queen Elizabeth. So far, the latest effigy is being very well received. While it notably depicts the Queen wearing the Royal Diadem, which she wore during her coronation in 1953, the most talked about feature has been the warm expression on the Queen's face.