Great Britain Won Home Most Inspiration Coin Category at 2021 COTY Awards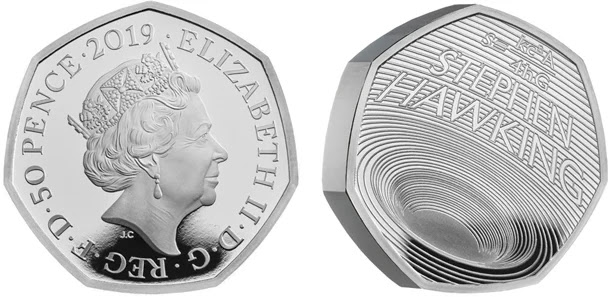 The Royal Mint of Great Britain won the Most Inspirational Coin category at the 2021 Coin of the Year (COTY) Awards. The winning coin, "Innovation in Science: Stephen Hawking," is the first in a series celebrating innovators in science.
The first coin in the series, dated 2019, honors renowned physicist Stephen Hawking. He is one of only three people commemorated on a British coin within a year of dying, joined by Winston Churchill and the Queen Mother. As described by the Royal Mint:
A brilliant physicist, Stephen Hawking had a gift for making the complex relatable. Thanks to his keen mind and infectious enthusiasm, a whole new audience grappled with the fundamentals of time and space. As we start an exciting new series celebrating innovators in science, it's only fitting that the first coin features the most famous British scientist of modern times.
According to designer Edwina Ellis, the black hole design featured on the reverse was inspired by a lecture Hawking gave in Chile in 2008. "Hawking, at his playful best, invites the audience to contemplate peering into a black hole before diving in," Ellis explained. "I wanted to fit a big black hole on the tiny coin and wish he was still here chortling at the thought. I am sure he would have thought of ways to harness the shiny table of the coin too. You feel he cared about all of us understanding."
In addition to the stylized black hole, the reverse also includes the inscription "Stephen Hawking" and the Bekenstein-Hawking formula, which describes the thermodynamic entropy of a black hole.
The obverse of the coin features the portrait of Queen Elizabeth II, as designed by Jody Clark. It includes the lettering ELIZABETH II·D·G·REG·F·D, as well as the year (2019) and denomination (50 Pence).
The brilliant uncirculated coin weighs 8.0 grams and measures 27.30mm in diameter