Mobile Fidelity Revives Jon Anderson's, Olias of Sunhillow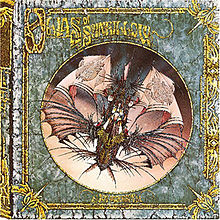 While Jon Anderson is best known for his work with Yes, his first solo album, Olias of Sunhillow is his magnum opus.  As if releasing a living thing that has been encased in amber for almost forty years, the 2014 re-master by Kevin Gray for the Mobile Fidelity SACD captures the texture and nuance of the music for the first time.
Anderson released his first solo album on vinyl in 1976. It was one of the most successful solo efforts released by former members of Yes. It reached No. 8 in the UK charts and cracked into the Top 50 in the United States.
If there ever was a CD version of Olias of Sunhillow, it is impossible to find.  It is probably good that the public had to wait for playback technology to catch up with Jon Anderson in this Album.  It's beauty is in the nuance which just could not be captured properly using 1970's technology.
Anderson wrote and performed all of the tracks on the album, which was inspired the cover art for the Yes album, Fragile,  in addition to the writings of J.R.R. Tolkien.  Borrowing from fantasy novels, the songs tell the story of an alien species traveling from Sunhillow to a new planet in a spaceship designed by Olias. To bring the story to life, Anderson used Celtic and Asian instruments and tape loops, all of which take on new clarity in the remixed version.
Mobile Fidelity faithfully reproduced the cover art and liner notes, including the complete text of the narrative poem and each song on the album.  When reduced to the size that fits an SACD jewel case, the test is a bit difficult to read, but the effort is rewarding.  This is contemporary poetry that will stand the test of time as an English language classic.
The new album is not Anderson's only ongoing project. He recently launched an acoustic solo tour. Anderson's set includes Yes hits, his solo releases, and a few cover songs. The tour kicked off in Austin, Texas in February and will run through the end of April. The highlight of the tour will be his performance in Woodstock, New York, with the Paul Green Rock Academy.
Local dates include:
3/27 — Newton, NJ, The Newton Theatre
3/29 — Port Washington, NY, Jean Rimsky Theater
3/30 — Newark, NJ, New Jersey Performing Arts Center — Victoria Theater
4/5 — New York, NY, B.B. King Blues Club & Grill