Medallic Art of the ANS, 1865–2014 Now Available as Free E-Book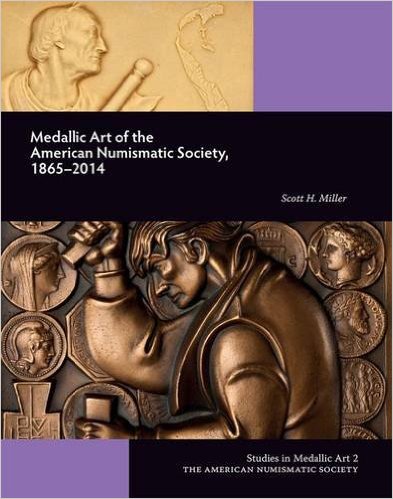 The American Numismatic Society is leading the way for numismatic ebooks. While the ebook has captured the commercial market for fiction and non-fiction books, numismatic booksellers like Whitman and Krause Publications have not been so quick to produce electronic versions of their reference books.
The Medallic Art of the American Numismatic Society, 1865–2014 is now available for free on the Internet. It is available for download in mobi and epub formats for tablets and mobile devices through American Numismatic Society's (ANS) new Digital Library.
As highlighted by the ANS, the society is the leading publisher of art medals in the United States, rivaling only the U.S. Mint. In its 150-year existence, the ANS has produced dozens of outstanding medals, including the Lincoln Memorial Medal, Declaration of War Medal, and Grant Monument Medal.
Medallic Art of the American Numismatic Society, 1865–2014 features color photographs of 60 medals issued by the ANS between 1865 and 2014, as well as two COAC medals and the 1910 Actors' Fund Medal. Written by Scott H. Miller, the detailed historical descriptions of the medals are accompanied by artist's sketches, archival photographs, and other historical artifacts. The book's four appendixes detail the recipients of some of these medals as well as the list of dies, hubs, galvanos, and casts of ANS medals in the ANS's own collection.
While many of the medals in the ANS series are rare, with most of them sporting mintage figures under 150, the prices for these medals do not yet reflect their rarity and collectability. Collectors would not have to spend more than $500 each for most of the medals.
"Comprised of only 60 medals, the series might be considered relatively brief, yet it contains unlimited treasures of numismatics, art and history," David Alexander of Coin Week wrote in his review. "Rarities abound and there are almost certainly additional discoveries to be made. As author Miller observes, the story of the American Numismatic Society and its medals is not over, but continues into the future."
First published in 2015, the list price of the print copy of the book is $100, and it is available to members for $70. The e-book version is one of 89 titles released as part of the Mellon Foundation-funded Humanities Open Book project. The goal of the grant program to convert works of enduring scholarship into EPUB e-books licensed to allow readers to search and download them freely.