Latvia's "National Entrepreneur" Wins Most Artistic 2016 Dated COTY
The Republic of Latvia's 5 Euro silver "National Entrepreneur" was named the most artistic coin in the Krause Coin of the Year Awards for coins dated 2016. The multi-faceted coin features a QR code, highlighting that it is possible to combine the art of the coin with modern technology.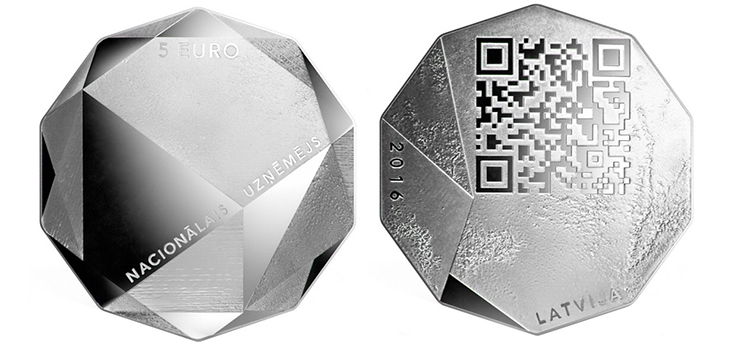 The coin was designed by Paulis Liepa, and the plaster model was created by Ivars Drulle. The "National Entrepreneur" coin recognizes the importance of entrepreneurs on the obverse and celebrates the 25th anniversary of the restoration of Latvian independence from the former Soviet Union on the reverse.  There are 25 raised facets that represent the past quarter-century. As described by the Latvijas Banka:
Marking the anniversary of Latvia's renewed independence or thinking about the future of our country, we have to remember that political independence cannot materialize without full economic self-sufficiency, to which the national entrepreneurs who create jobs and pay taxes are important contributors.
On the obverse, a QR code containing a message for the coming generation is featured at the top, with the year 2016 on the left and the inscription LATVIJA at the bottom part of the obverse. The encoded message states: "WORK WITH COURAGE, DETERMINATION AND RESPONSIBILITY!" The obverse of the coin is smooth, symbolizing the extensive area of work that the future generations have to populate with their values.
The reverse features 25 raised facets that symbolize the years devoted to entrepreneurship. The inscription 5 EURO is placed at the top, with the words NACIONĀLAIS UZŅĒMĒJS running slantwise underneath.
Latvia's 5 Euro silver "National Entrepreneur" coin has a maximum mintage of 3,000. The silver coin weighs 30.30 grams, and the Decagon side length is 12.00 millimeters. It was struck in 2016 by UAB Lietuvos monetų kalykla (Lithuania). While the coin is legal tender, it is now only available on the secondary market.