Canada's "Mother Earth" Coin Named Most Inspirational 2016 dated COTY Category Winner
The Royal Canadian Mint won the Krause Coin of the Year Award's Most Inspirational Coin category for coins dated 2016 with a $20 silver coin honoring Mother Earth.
Designed by artist Alexandra Lefort, the coin features a 3D droplet with an inset full-color image of Earth, conveying the importance of water to all life on this planet. Like many other COTY coins, "Mother Earth" combines the art of coin design with the art of coin production technology to create a moving hand-held work of art.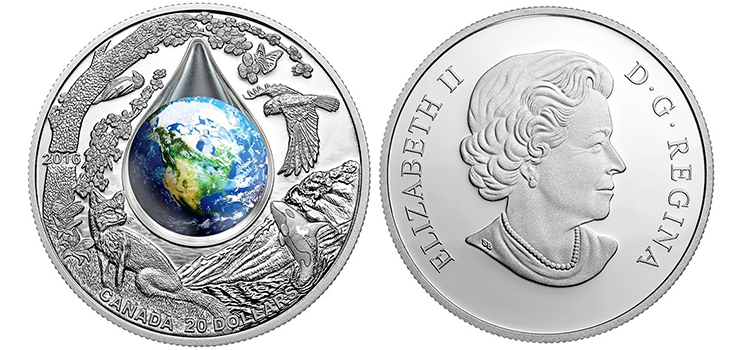 As described by the Royal Canadian Mint:
Every person and animal is dependent upon Mother Earth and the water she provides. Our first-ever domed coin cherishes that most precious resource with a raised 3D water droplet cradling a colourful inset of Earth. With our endless lakes, rivers, wetlands and streams, it can be easy to take such an aquatic bounty for granted. This coin is a breathtaking call to appreciate, cherish and preserve our planet.
Alexandra Lefort designed the reverse. It features a 3D droplet with an inset image of Earth, conveying the importance of water to all life on this planet. The space around the water droplet depicts the diverse fauna and flora that live in Canada.
The lower left section of the design represents the terrestrial environment with a red fox gazing at the water droplet. Above the fox is a red-headed woodpecker on a western flowering dogwood tree that flows upwards and around the top of the coin to an American kestrel that represents the aerial environment. Below, an orca breaches over the waves (aquatic environment) with mountains in the background.
 Susanna Blunt designed the obverse. It includes an effigy of HM Queen Elizabeth II, which has been used on numerous Canadian collector coins and all circulation issues since 2002.
 The 99.99% pure silver coin has a face value of 20 dollars. It weighs 31.39 grams and is 38 millimeters in diameter. Mintage of "Mother Earth" was limited to 7,000 coins. It is no longer available from the Royal Canadian Mint but may be purchased on the private market.