Italy 10 Euro Wins "Most Artistic" & COTY for Coins Dated 2015
Italy won in the "Most Artistic" category and Coin of the Year for coins dated 2015 with the 10 Euro, silver, 70 Years of Peace, KM387. The obverse and reverse of the coin was designed by Maria Grazia Colaneri. Ms. Colaneri received the distinction of being named the artist of the year by Krause Publications in 2015.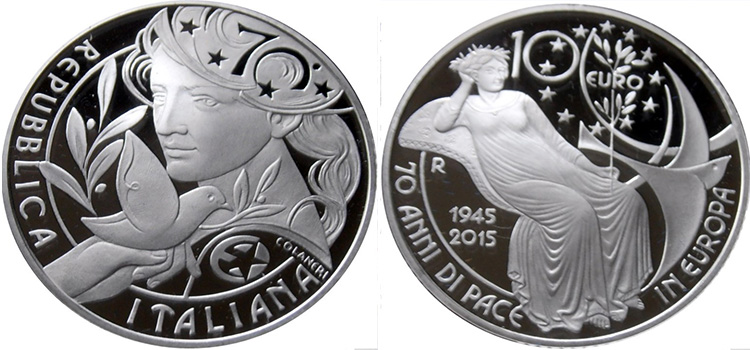 The subject for the coin was recommended by the European Silver Program, the Eurostar Program, and bears the Eurostar logo beneath the face of an allegorical woman symbolizing Europe. A dove of peace rests on a hand protruding through the obverse legend, "Repubblica Italliana."
The reverse of the coin depicts a half reclining bust of a woman holding an olive branch in her left hand. This image is based upon a fresco painted by Ambrogio Lorenzetti at the Sala dei Nove of the Palazzo Pubblico in Siena.
Several EU countries including Finland, France, Belgium, Spain, Portugal, and Ireland issued coins with the theme of 70 years of peace in Europe. Finland's 10 Euro silver coin designed by Petri Neuvonen won the Krause Coin of the Year "Best Silver" category.
Commentators on the Eurostar theme for 2015 have all pointed out that the 70 years since the end of World War 2 is the longest period of peace in Europe since the end of the Pax Romana in 180 AD.
Italy has issued two 10 Euro silver each year coins since 2003. The subject of 60 years of peace and freedom was commemorated in 2005.
The 10 Euro silver coin is 34 mm, 22 grams of silver, struck in proof only with a mintage of 6,000. While the mintage is not particularly low, the coin has temporarily disappeared from the market reportedly due to a large dealer purchase from the mint in the year of issue.